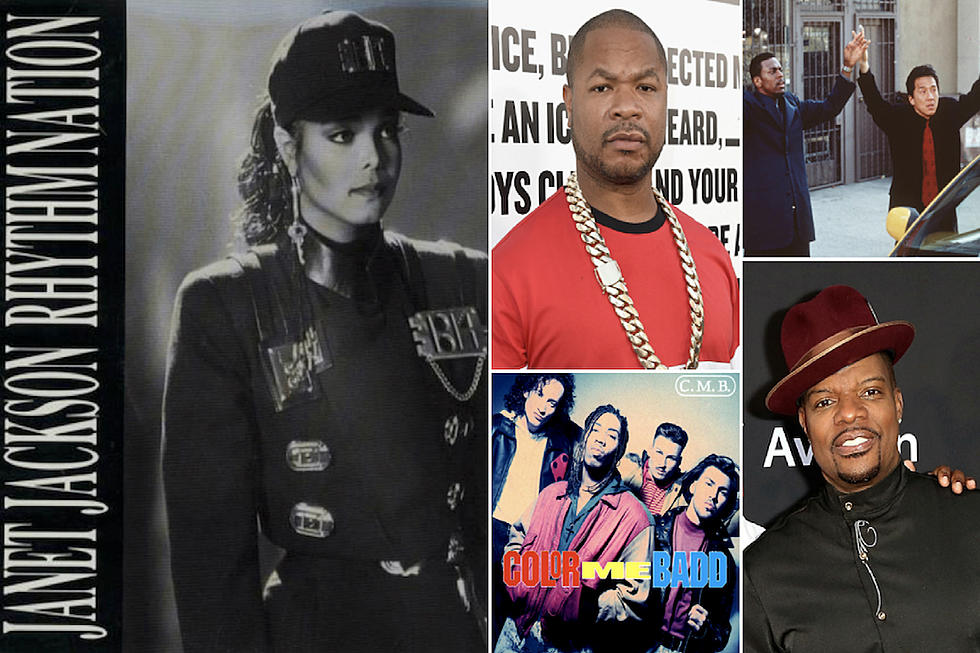 Janet Jackson Releases the Groundbreaking 'Rhythm Nation 1814′: Sept. 18 In Hip-Hop History
A&M / Kevin Winter / Hulton Archives / Maury Phillips, Getty Images / Giant
1989: Janet Jackson releases her game-changing R&B masterpiece Rhythm Nation 1814
Following her hugely successful Control album, Janet Jackson returned with another landmark project, Rhythm Nation 1814, on this day in 1989. The collection boasts six No. 1 hits, including the title track, "Miss You Much," "Escapade," "Alright," "Black Cat" and "Love Will Never Do (Without You)." Produced by the legendary production duo James "Jimmy Jam" Harris III and Terry Lewis, the album was sonically different from Control with many of the songs also addressing social issues affecting the youth at that time.
"Well, the Rhythm Nation 1814 concept didn't come up right away. I think the idea was to go in and make some songs," recalls Jimmy Jam in an 2014 interview with Red Bull Academy. "When you're sitting in the studio for long hours, you tend to watch a lot of television. We would flip between MTV to watch music videos and CNN to see what was happening in the world. Somehow, it almost became a blur to us. We would see something tragic happening like a school shooting or gang violence. These images became one thought and it was kind of a no-brainer that this was going to be the theme of the album."
With empowering dance tracks leading the first half of the album and power ballads driving the second half, Jam & Lewis delivered an even balance of captivating music and memorable lyrics that would stand the test of time. In the end, Rhythm Nation 1814 changed the course of R&B and officially made Janet into a crossover pop diva.
"In our minds, we wanted to make something significant, but at the same time, we knew the way to reach people was through dance, because that was the thing that Janet did really well, and she understood that," said Jam. "So while lyrically it was important to reach people, it needed to be dressed up in a way where people didn't know they were learning something. It was our sense to do that and how to achieve both things, and I think we were able to do it."
1991: Color Me Badd delivers sexy debut album C.M.B.
On this day, Color Me Badd released their debut album, C.M.B. on Giant/Epic Records. The project features their hit singles "I Wanna Sex You Up" and the Spanglish ballad "I Adore Mi Amor," two great R&B songs of the '90s. The group currently performs as a trio - Bryan Abrams, Mark Calderon and Adam Emil - on the "I Love the '90s" Tour.
"We started as an a cappella group, bringing that R&B '50s sound, that Motown feel with up-to-date sounds with hip-hop [or] hip-hop doo-wop, as we coined the phrase," said Calderon about their tour (via EW.com). "It was a sound of that decade. That's what people loved."
"Now, our sound has been in the past and in the closet long enough that people are missing that," added Abrams. "All those people that were kids, they're grownups now. They have kids and they want to share that old music with their kids."
1998: Rush Hour rushes into theaters
The buddy-cop action flick Rush Hour made Chris Tucker a box-office superstar and cemented Jackie Chan as a star in the U.S. The movie centers on Detective James Carter (played by Tucker) who teams up with Detective inspector Yang Lee (played by Chan) to help rescue a Chinese consul's kidnapped daughter while trying to apprehend a notorious kingpin in the process. The film grossed over $244 million at the box office and spawned two money-making sequels, Rush Hour 2 in 2001 and Rush Hour 3 in 2007. A Rush Hour 4 is currently in the works and is set for a 2019 theatrical release.
1939: Bobby Jones is born
Born in Henry, Tenn., gospel legend Bobby Jones is mostly known for his trailblazing BET show Bobby Jones Gospel, which is the longest-running gospel program in cable television history. The variety show aired every Sunday morning from 1980 to 2015 and delivered heavenly gospel performances to a whole new audience. Jones, who is often referred to as the "Ambassador of Gospel Music," currently hosts the Bobby Jones Gospel Countdown every week, which is syndicated nationally through American Urban Radio Networks, and the Bobby Jones Radio Show, which is heard on Sheridan Gospel Network.
1967: Ricky Bell of New Edition/BBD is born
On this day, Ricardo "Ricky" Bell was born in Roxbury, Mass. The R&B veteran is a member of the iconic R&B group New Edition as well BBD, along with N.E. members Michael Bivins and Ronnie DeVoe. In 2018, Bell teamed up with DeVoe, Bivins and Bobby Brown to hit the road together as the R&B foursome RBRM.
Originally born in Detroit, Alvin Nathaniel Joiner (aka Xzibit) grew up briefly in the Motor City before moving to Albuquerque, N.M., to live with his father after his mother died in 1984. When he was 14 years old, Xzibit relocated to Los Angeles, where he lived with his older sister and started penning rhymes as a way to vent out his frustrations. The L.A. rap scene also help cultivate Xzibit's talent and before long he became a member of the Likwit Crew, which consist of veteran rhymers Tha Alkaholiks and King Tee. Following his cameo appearances on both the 'Liks and King Tee's projects, Xzibit secured a record deal with Loud Records and dropped his critically acclaimed debut album At the Speed of Life in October 1996. For 20 years, X has enjoyed a successful career as a rapper. He has since become an actor with a bunch of movie and television credits under his belt. Xzibit currently has a recurring role on Fox's hit drama Empire.