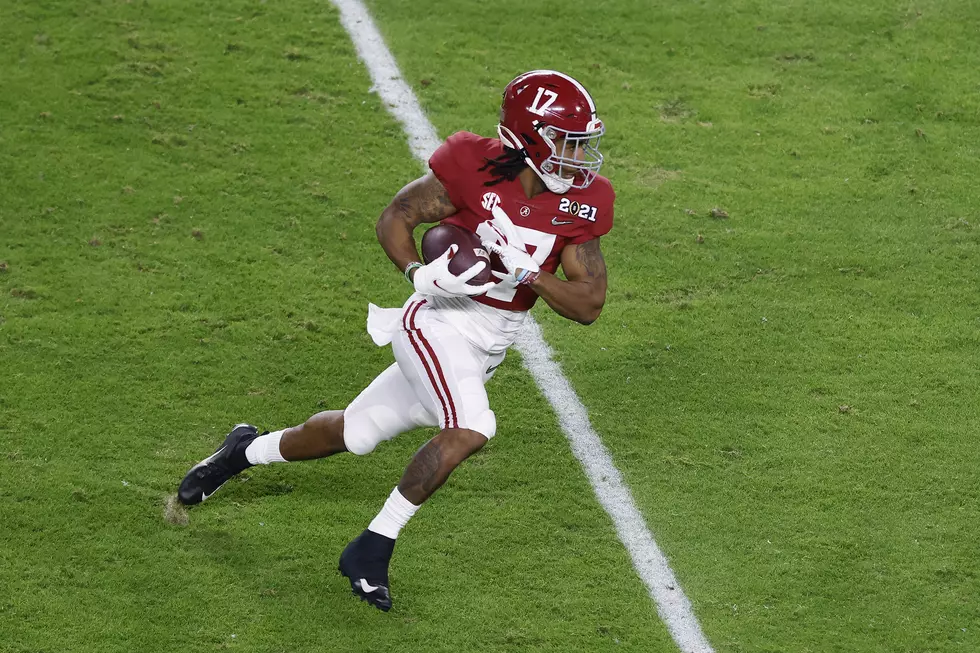 Jaylen Waddle Declares For the NFL Draft
Getty Images
Enter your number to get our free mobile app
Junior wide receiver Jaylen Waddle announced that he is forgoing his senior season to enter the NFL draft.
The Houston, Texas native racked up 691 receiving yards and four touchdowns in just six games. Waddle suffered a season-ending injury on the opening kickoff against Tennessee. The receiver did return during the national championship game against Ohio State were he registered 34 receiving yards on three catches.
According ESPN Draft Analyst Todd McShay, Waddle is slated to go No. 17 to the Las Vegas Raiders. If fellow wide receiver DeVonta Smith and Waddle were to be drafted in the first round, that would be back-to-back drafts where at least two Alabama wide receivers were taken in the first round.
"We call ourselves the 'Ride Outs'," Waddle said. "It's great being here where everyone is so competitive, everyone makes plays and everyone is out there competing. Competition is to improve and to help better one another to [prove] who is going to make the plays and who is going to do the next big thing."
Waddle will now begin preparations for the NFL Combine which normally held in late February. However due to the COVID-19 pandemic, there has been no official announcement when the combine will be held, if it will be held at all.
Regardless, Waddle said that he is "ahead of schedule" in his recovery but would not comment further on if the injury will limit what he will be able to do at the combine.
Highest Rated Recruits of the Saban Era