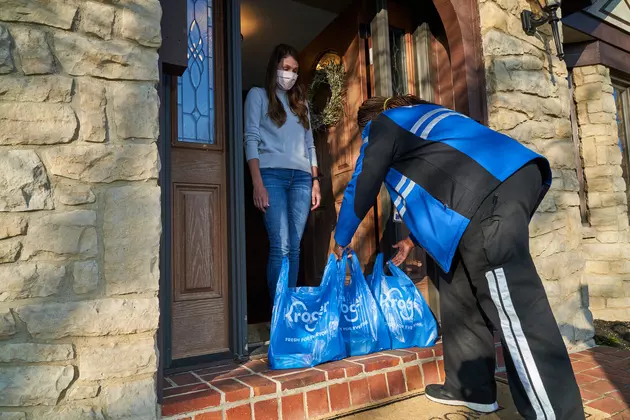 Kroger Home Delivery Now Available in Tuscaloosa County
(Kroger)
There may not be a Kroger store in Tuscaloosa County, but residents can now have the grocery giant's goods delivered to their doorstep from their Birmingham-based fulfillment spoke that opened last month.
In a press release provided to the Thread, a Kroger spokesperson said the new "spoke" complements their Atlanta fulfillment center and opened on September 16th. From the new facility, drivers will deliver groceries up to 90 minutes away, which includes most metro areas in West Alabama.
"Kroger Delivery starts by bringing the shopping experience to wherever our customers are, whether they are using the Kroger app or browsing our weekly ad at Kroger.com. Here, customers can access our seamless experience that promises an extensive assortment, thousands of digital coupons, and an entirely personalized shopping trip," said Bill Bennett, Kroger Vice President and Head of E-commerce. "Through this zero-compromise service, customers can get fresh, affordable groceries brought to their door through a best-in-class white glove delivery experience, enabled by our refrigerated trucks, and amazing trained drivers. This cutting-edge technology sets a new unmatched standard for grocery delivery."
Interested shoppers can pay a flat fee to have their groceries delivered or sign up for the newly launched Boost by Kroger annual membership program for either $59 or $99 per year.
Through Boost, customers can get unlimited free delivery on orders of $35 or more and extra Fuel Points for the money they spend on purchases.
"Kroger estimates the membership can save customers more than $1,000 per year on fuel and grocery delivery," using the service, they said in a release.
The Birmingham Kroger facility will employ more than 160 people and its drivers will drive up to 90 minutes from the hub on West Oxmoor Drive in Birmingham.
Delivery vans can carry up to 20 orders at a time, and customers in Tuscaloosa County are already getting Kroger delivered to their doorsteps.
For a flat $6.95 fee, customers can have Kroger delivered next day, or pay $9.95 to have it delivered same day. Deliveries are free for members of the Boost program.
To learn more and get a discount on your first delivery, check out kroger.com now. 
Top Stories from the Tuscaloosa Thread (10/17 - 10/24)
16 of the Top Stories published by the Tuscaloosa Thread during the week of October 17th, 2022.