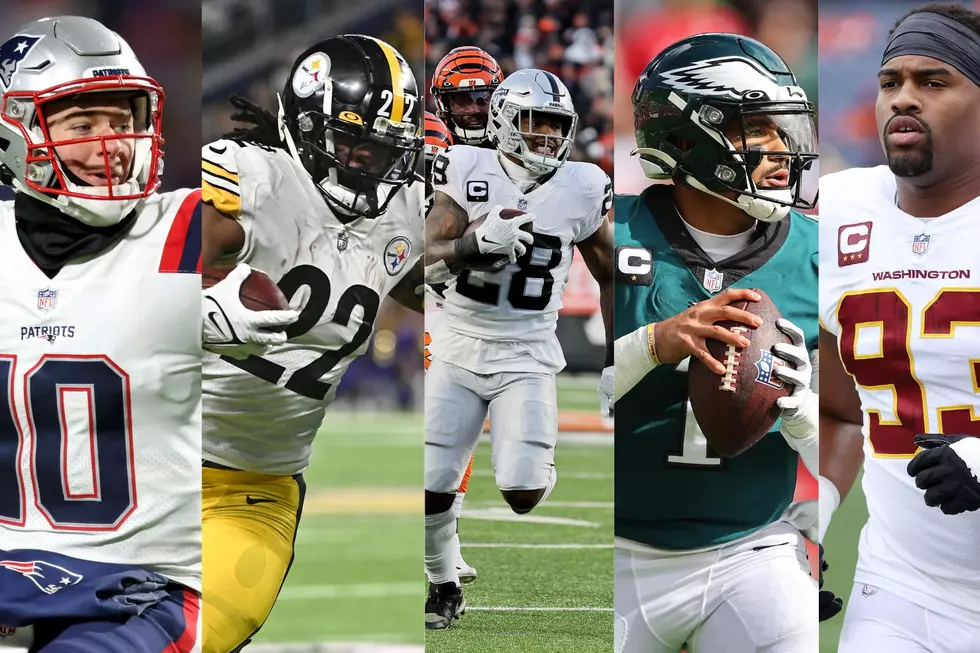 Looking For an NFL Team? These 5 Franchises Have the Most Alabama Players After The Draft
Photos Courtesy of Getty Images
The 2022 NFL Draft has now come and gone and its time to begin preparing for the new regular season.
So you're an Alabama football fan? You live three hours away from the nearest NFL team, but you still want to enjoy your Sundays by watching Crimson Tide alums dominate the NFL. Which NFL team should you adopt for the 2022 season?
The Tide boasted seven players picked in this past week's draft and had several more signed as undrafted free agents, bringing Alabama's total players on NFL rosters now to a whopping 74 athletes.
Here are the five teams with the most former Alabama stars on its roster.
New England Patriots (6) -  Who is one of Nick Saban's closest friends in the coaching industry? Bill Belichick. It only makes sense that his close friend would be focused on accumulating talented Alabama players.
The Patriots boast starting quarterback Mac Jones, running back Damien Harris, defensive tackle Christian Barmore, linebackers Anfernee Jennings and Mack Wilson and they signed defensive lineman LaBryan Ray as an undrafted free agent this week to give them the most Crimson Tide players in the NFL.
Read More: Family Guy Mentions Former Alabama QB in Latest Episode
Pittsburgh Steelers (5) - The Pittsburgh Steelers have been one of the NFL's most successful franchises over the last two decades. They've sustained success by scouting well and acquiring players who buy into the Steelers' culture. The five former Alabama players in Pittsburgh fit like a glove.
Mike Tomlin's squad has starting running back Najee Harris, All-Pro safety Minkah Fitzpatrick, cornerback Levi Wallace, center J.C. Hassenauer and recently signed Chris Owens as an undrafted free agent.
Read More: Najee Harris Makes AEW Cameo
Las Vegas Raiders (5) - It was a tumultuous 2021 season for the Raiders that saw the organization turn over head coach Jon Gruden and general manager Mike Mayock. The pair notoriously had a penchant for selecting players from Alabama and Clemson as they were enamored by "championship pedigree".
A new regime is in place but many familiar faces remain, the Raiders feature two Bama running backs in Josh Jacobs and Kenyan Drake, two offensive linemen in Alex Leatherwood and Lester Cotton and cornerback Anthony Averett.
Philadelphia Eagles (5) - The Eagles are a team on the rise under second year head coach Nick Sirianni. The franchise is all in on starting quarterback Jalen Hurts and proved it by trading for A.J. Brown during the first round of last week's draft.
Bama fans can get behind the Eagles as they have Hurts, former Heisman Trophy winner DeVonta Smith, offensive lineman Landon Dickerson, safety Jared Mayden and signed cornerback Josh Jobe as an undrafted free agent over the weekend. 
Washington Commanders (5) - The Washington Football team rebrands itself the Commanders for the 2022 football season but the franchise could have just called itself the Washington Crimson Tide. Dan Snyder's club has been obsessed with the Alabama program over the last several years and once again proved its infatuation over the weekend.
The Commanders have star defensive linemen Jonathan Allen and Daron Payne already in place as well as wide receiver Cam Sims. Washington went back-to-back Bama in the draft, selecting defensive lineman Phil Mathis and running back Brian Robinson in the second and third rounds.
If you decide picking a team is too hard or you just simply don't care enough about "The Shield" one can always be entertained by the NFC East. The division with the biggest TV market also happens to have the most former Alabama players in it with 14 athletes among the New York Giants, Dallas Cowboys, Washington Commanders and Philadelphia Eagles.
How Do Fans Sing 'Dixieland Delight' in Tuscaloosa, Alabama?
Alabama football fans add
a few extra lyrics
to 'Dixieland Delight' when it's played on the speakers in Bryant-Denny in Tuscaloosa, Alabama. What are they singing? And Why?
Crimson Tide Will Anderson Jr. 90s Playlist
Here are some songs that we think Alabama Crimson Tide player Will Anderson Jr. should add to his playlist, or better yet, he should just listen live on the free WTUG app.
2021 SEC Championship Game Alabama vs. Georgia
The Alabama Crimson Tide defeated the No. 1 ranked Georgia Bulldogs 41-24 to win the 2021 SEC Championship.