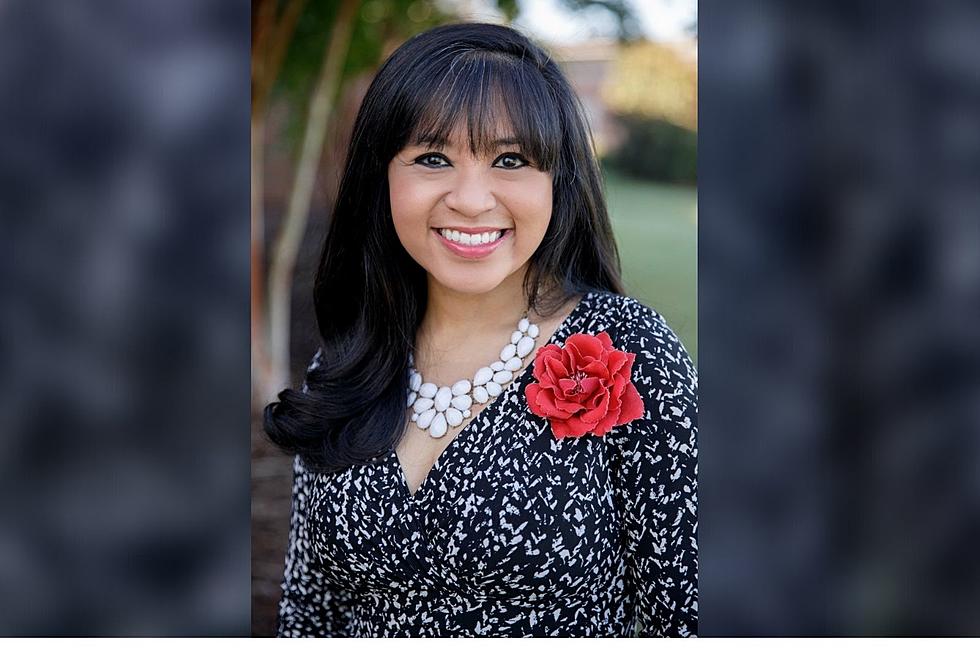 Meet Sheena Q. Gregg who is a Phenomenal Woman of West Alabama
Photo courtesy of The University of Alabama Strategic Communications with Photographer Mathew Wood
Townsquare Media Tuscaloosa and the Girl, Glow Up Leadership and Mentoring Nonprofit Organization are celebrating Women's History Month by honoring the Phenomenal Women of West Alabama.
92.9 WTUG, Praise 93.3, 95.3 The Bear, ME-TV 97.5, Catfish 100.1, Tide 100.9, ALT 101.7, 105.1 The Block and our free digital news outlet the Tuscaloosa Thread is excited to recognize the empowered women of  Bibb, Fayette, Greene, Hale, Lamar, Perry, Pickens, Sumter, Tuscaloosa, and Walker counties.
Sheena Quizon Gregg is a Phenomenal Woman of West Alabama
"As a Christian woman, I would be remiss if I didn't acknowledge the level of importance that my relationship with the Lord has in my life. Proverbs 31 describes a diligent, dignified, and strong woman who speaks in wisdom and kindness. When I think of all the incredible things that women have done and continue to do today in the areas of business, the arts, science, and politics, I can't help but think of these accomplishments being done by a Proverbs 31 woman. I am a proud daughter of immigrant parents from the Philippines. My mother is the oldest of seven children, and though she doesn't speak of it often, I know all of the sacrifices that she made in order for her younger siblings to thrive in both the Philippines and the U.S. My mother is a true testament of a Proverbs 31 woman. Women's History Month is always a special time for me to celebrate, learn, and remember all of the incredible things that women do, not only on a large scale but also within their personal sphere of influence daily like my mom."
Celebrated by Unilever USA as one of its Agents of Change in the nutrition industry, Sheena Quizon Gregg, MS, RDN, LD is a registered dietitian nutritionist and has served as Assistant Director of the Department of Health Promotion & Wellness at The University of Alabama since 2009.
In 2021, Gregg opened her virtual part-time private practice Sheena Gregg Nutrition to help fill the gap in community-based resources for individuals with eating disorders & disordered eating in the West Alabama area. A native of Fort Payne, Alabama, and a proud Filipina-American, Gregg is a two-time graduate of The University of Alabama, receiving both her Bachelor's and Master's degrees in Human Nutrition and Hospitality Management.
Before working at UA, Gregg initially started her career in the clinical setting working at DCH Regional Medical Center and Gadsden Regional Medical Center. In her role at The Capstone, Gregg has provided medical nutrition therapy for UA students and supports Adapted Athletics, UA Spirit Squads, and the Million Dollar Band Auxiliary teams with sports performance nutrition education and consultation.
Her outreach programming within the Dept. of Health Promotion and Wellness focuses on creating a campus culture that empowers UA community members with nutrition wisdom and skills to have a healthy relationship with food that enhances overall health and well-being.  In 2016, Gregg was a featured speaker for TEDx Tuscaloosa highlighting the impact of diet culture on psychological well-being.
Gregg is currently the past president of the Alabama Dietetic Association, the Alabama affiliate of the Academy of Nutrition and Dietetics. She has served as State Chair of the Alabama Wellness Alliance (formerly the Alabama Obesity Task Force) and as a spokesperson for the statewide Scale Back Alabama program through the Alabama Department of Public Health and Alabama Hospital Association. She has been awarded Recognized Young Dietitian of the Year by both the Tuscaloosa Dietetic Association and Alabama Dietetic Association and was given the Jack Davis Professional Achievement Award in 2016 by UA's College of Human Environmental Sciences.
Gregg has been quoted in USA Today College, Shape Magazine, and Women's Health Magazine on the topics of fad diets, weight management, sports nutrition, and eating disorders. She currently serves on the expert panel for BestFoodFacts.org and regularly provides media content to The Dairy Alliance. Gregg is a proud board member of Blessed Brokenness, an Alabama-based non-profit ministry focused on bringing spiritual healing and financial blessings to couples who suffer from infertility and pregnancy loss.
She is married to the love of her life Terry Gregg and has two sons, Sam and Jack. Gregg is an active member of the Church of the Highlands in Tuscaloosa and has a personal ministry of helping young women use their faith as a compass for effective and powerful leadership at home and in the workplace. "As iron sharpens iron, so one person sharpens another." Proverbs 27:17
Next Steps for Women in Alabama
When asked what she believes are the next steps for women in Alabama? Gregg responded that she "believes that as women of Alabama, we are tasked with continuing to forge the path of success for the younger generation. Now is the time to continue to mentor our female youth and empower them with the truth that they can make a difference in this world. I believe that we have populations of young girls in Alabama who are unfortunately living an existence that doesn't speak life into them. If you are a woman in Alabama who has any level of influence or impact on the younger generation, my call to action is to build relationships with these young women and let them know that they are seen, they are valued, and they were made for a special purpose."
West Alabama is a thriving area of the Yellowhammer State with women creating history at every step. If you know of a woman that deserved to be highlighted for her accomplishments please email maryk@townsquaremedia.com
(Source) Request bio sent to Townsquare Media Tuscaloosa from Sheena Quizon Gregg.
LOOK: Milestones in women's history from the year you were born
Women have left marks on everything from entertainment and music to space exploration, athletics, and technology. Each passing year and new milestone makes it clear both how recent this history-making is in relation to the rest of the country, as well as how far we still need to go. The resulting timeline shows that women are constantly making history worthy of best-selling biographies and classroom textbooks; someone just needs to write about them.
Scroll through to find out when women in the U.S. and around the world won rights, the names of women who shattered the glass ceiling, and which country's women banded together to end a civil war.
LOOK: The most famous actress born the same year as you
Many of the actresses in this story not only made a name for themselves through their collection of iconic performances, but also through the selfless, philanthropic nature with which many of them approached their stardom. In an age of flipping the script on societal norms, many of these actresses are using their voices and platforms to be advocates for those who are otherwise unheard.
LOOK: The Most Famous Actor Born Every Year