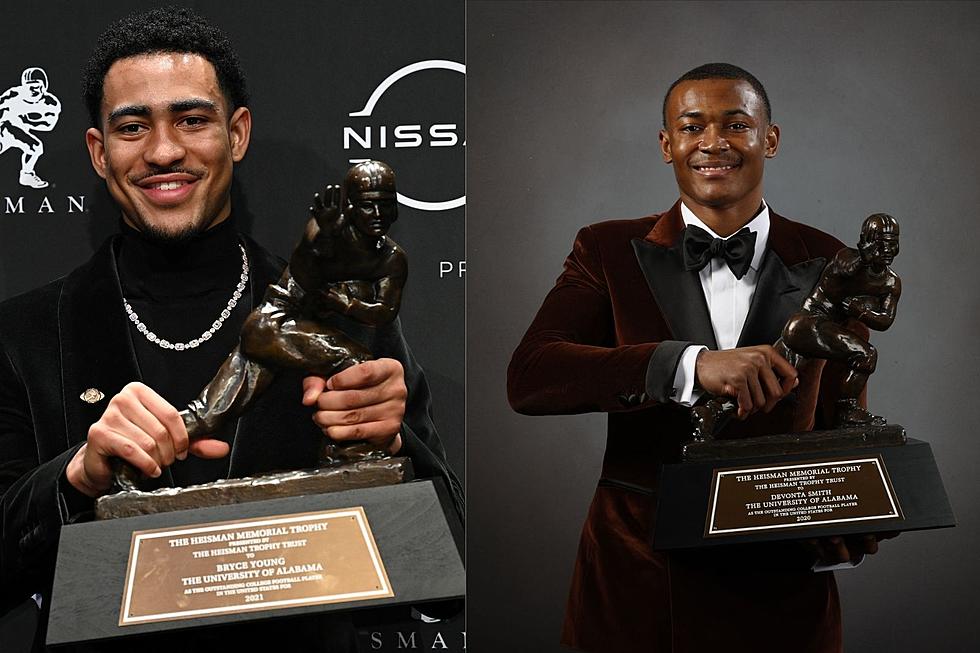 Petition: Retire The Heisman Suite in Bryant Hall
Photos Courtesy of Getty Images
We are living in a "Golden Age" of Alabama athletics as most recently evidenced by the Crimson Tide becoming the just the fifth school in football history to boast back-to-back Heisman Trophy winners.
DeVonta Smith and Bryce Young became forever linked in history as Alabama's third and fourth winners of college football's most prestigious award but the pair already shared a lot in common prior to Young lifting the bronze statue.
As a 5-star prospect, Young was assigned to room with the Smith to learn Nick Saban's Process and "The Bama Standard". Smith took Young under his wing to help him transition smoothly from high school to college.
The connections don't stop there, ironically Young's first touchdown pass in an Alabama uniform went to Smith, an 18-yard laser between defenders against the Kentucky Wildcats.
Smitty acknowledged the special connection between the two on during Saturday night's Heisman Trophy Award ceremony in a special video package.
"That was my roommate the entire year (last year)," Young said to CBS Sports Network. "Smitty was always a big mentor for me. When I first got there at Alabama last year, he welcomed me with open arms. He was always someone who I'd try to pick his brain and ask questions about. And he was always someone who would stop and talk about football, talk life with me. As a young freshman last year, that meant a lot. For him to make such a special video and for me to see that right after I got the award and hear that speech, it was a whirlwind of emotions for me. That was amazing."
So how should the University of Alabama honor these two legends and their special connection?
Some might suggest a statue outside of Bryant-Denny Stadium, but we're not the Auburn Tigers with three statues outside of Jordan-Hare to honor its three Heisman winners. Smitty and Young are better than that.
Perhaps instead Greg Byrne should retire their numbers? No one else can wear #6 or #9 in Alabama's future? Or perhaps because we are celebrating their friendship we retire #69 (nice), sorry Landon Dickerson. This isn't the answer either, we are not the University of Tennessee with its zero Heisman Trophy winners but eight retired jersey numbers.
Greg Byrne, I have a solution for you that will both honor Smith and Young, but will fill the coffers of the Crimson Tide athletic budget, allowing the university to extend this "Golden Age" of Alabama athletics far beyond the scope of our imagination.
Alabama athletics needs to retire the dorm suite that the Heisman Trophy winners shared in 2020. No more athletes may rest their head in the same space that Smith and Young spent dreaming of their football fortunes.
Legendary coach Nick Saban doesn't need a leg up on recruiting, but imagine how effective taking prospects to the retired room would be and selling them on Heisman dreams of their own.
The athletic department could turn the suite into a museum exhibit, sell tickets and allow fans and admirers to view the room the superstars shared. Byrne could use the funds to supplement the Crimson Standard and further enhance the athletic facilities.
Perhaps logistically it would be challenging to have fans cycling through the athletic dorm to view the special space so as an alternative the Bryant Museum could opt for something similar to the Paul "Bear" Bryant Office exhibit that currently lives in the corner of the museum.
How many fans would love to walk through the dorm rooms of champions?
Sign the petition and let the Alabama administration know you want to see the university retire the luxurious lodging go unoccupied to honor the legacies of the two Tide legends.
Alabama Crimson Tide All-Time Passing Leaders
Alabama Crimson Tide All-Time Receiving Leaderboard
Meet The 2021 Alabama Offense
The 2021 Alabama offense only brings back three returning starters from the 2020 squad. Get ready for the new season by getting familiar with this year's Crimson Tide offense.