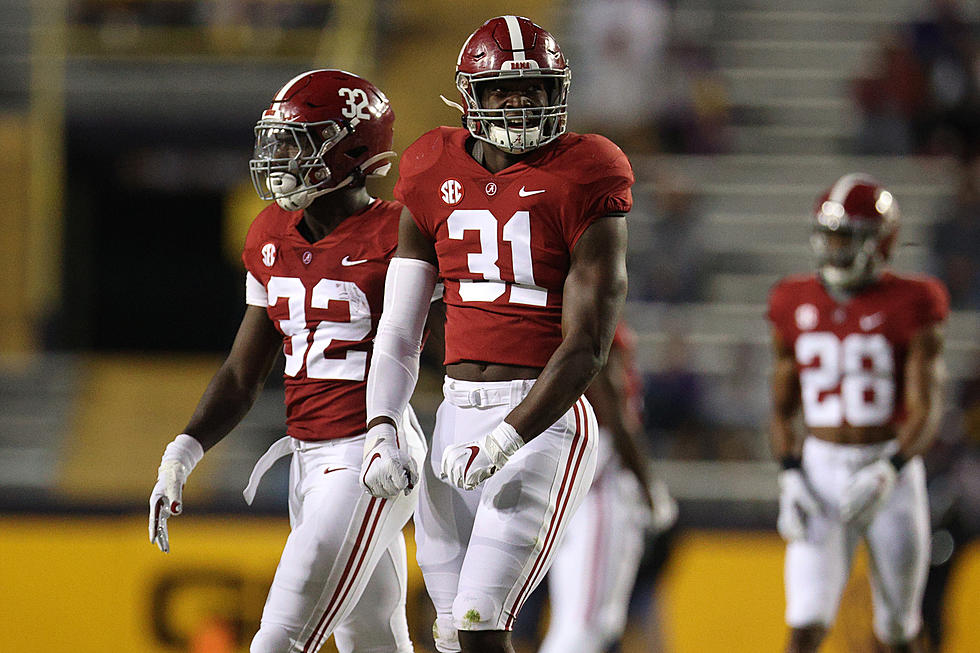 SEC Names 83 Alabama Student-Athletes to First-Year Honor Roll
Getty Images
The Southeastern Conference announced the 2021 SEC First-Year Academic Honor Roll at noon on Tuesday. A total of 83 Alabama student-athletes made the honor roll with the most honorees (16) from the national champion football team and the second most (10) from rowing.
The honor roll is based on grades from the 2020-2021 academic year, and a student-athlete must have a GPA of 3.00 or better and has been a team member for the sport's entire NCAA Championship segment to earn a spot on the list.
Baseball:
Bryce Eblin-Communication Studies
Eli Giles-Pre-Physical Therapy
Grayson Hitt-General Business
Grant Knipp-Kinesiology
Dylan Ray-Consumer Sciences
Caden Rose-Management
Brayden Rowe-Kinesiology
Men's Basketball:
Darius Miles-Communication Studies
Joshua Primo-Business Finance
Jaden Quinerly-Business Finance
Alex Tchikou-Business Management
Women's Basketball:
Myra Gordon-Communication Studies
Taylor Sutton-Operations Management
Football:
Chase Allen-Kinesiology
Will Anderson Jr.-Communication Studies
Javon Baker-Consumer Sciences
Brian Branch-General Business
Chris Braswell-Criminology & Criminal Justice
Jackson Bratton-Management
Javion Cohen-Communication Studies
Kyle Edwards-General Business
Traeshon Holden-News Media
Sam Johnson-Kinesiology
Jah-Marien Latham-Undecided
Seth McLaughlin-Finance
Malachi Moore-News Media
Drew Sanders-Finance
Kristian Story-General Business
Bryce Young-News Media
Gymnastics:
Shania Adams-Pre-Major Studies
Sarah Duhe-Pre-Med
Cam Machado-Pre-Major Studies
Kaylee Quinn-Psychology
Men's Golf:
Canon Claycomb-News Media
Rowing:
Raegan Beightol-Economics
Hannah Bennett-Biology
Rachel Fuller-Aerospace Engineering
Brittany Hill-Biology
Ella Kemna-Biology
Abby Pesansky-General Business
Emma Shenkenberg-Microbiology
Elizabeth Struble-Kinesiology
Michala Struble-Interior Design
Sydney Wenstrom-Criminal Justice
Soccer:
Kate Henderson-Marketing
Felicia Knox-Pre-Major Studies
Tanna Sanchez-Carreto-Management
Penny Smith-Public Relations
Softball:
Kat Grill-Kinesiology
KJ Haney-Public Health
Alex Salter-General Business
Jaala Torrence-Kinesiology
Men's Swimming & Diving:
Matt King-Mechanical Engineering
Jake Marcum-Psychology
Christopher O'Connor-Finance
Kacper Piotrowski-Advertising
Trey Sheils-Biology
Eric Stelmar-Biology
Women's Swimming & Diving:
Cora Dupre-Economics
Isabella Matesa-General Business
Maddie Mechling-Public Health
Selina Reil-Psychology
Women's Tennis:
Anne Marie Hiser-Communication Studies
Sydney Orefice-Finance
Anna Parkhomenko-Marketing
Men's Track & Field:
Nathan Cooper-Exercise Science
Harrison Dimick-Exercise Science
Shea Donohoe-Lower Division Economics
Jack Hawes-Lower Division General Business
Jace Jones-Lower Division General Business
Garrett Suhr-Exercise Science
Women's Track & Field:
Bianca Carroccio-Biology
Nadia Herring-Elementary Education
Sophie Spada-Kinesiology
Kerri Walsh-General Business
Aysia Ward-Accounting
Volleyball:
Chaise Campbell-Biology
Riley Fisbeck-Human Environmental Sciences
Abby Marjama-Public Health
Kendyl Reaugh-Public Relations
Victoria Schmer-General Business
Madelyn St. Germain-Special Education
Allie Trame-Communicative Disorders
The Crimson Tide has had 98, 66, and 151 students on the SEC Fall, Winter, and Spring Academic Honor Rolls. Additionally, the Tide totaled 398 students on the academics honor rolls for the 2020-2021 year.
Check out these 50 fascinating facts about dogs:
KEEP READING: Here are 6 foods from your cookout that could harm your dog