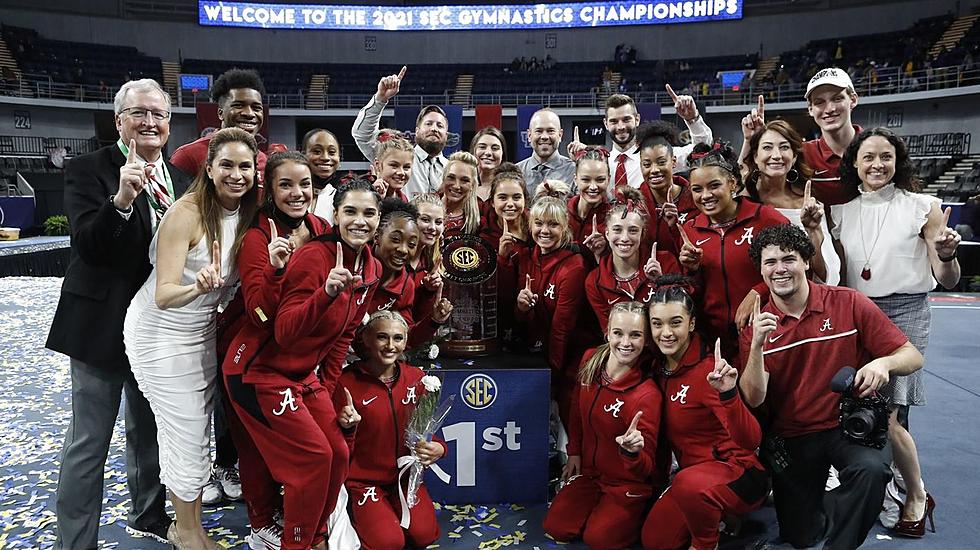 Alabama Gymnastics Releases 2022 Television Schedule
Photo Courtesy of Roll Tide Athletics
The Southeastern Conference and ESPN released the 2022 gymnastic television schedule, including nine of Alabama's regular-season matches.
The biggest television highlight for the Tide will happen in week two when ABC will air the network's first collegiate meet during the season, with the Tide taking on the Florida Gators. Along with ABC, other meets will air on ESPN2, ESPNU, SEC Network, and the SEC Network+.
The SEC Championship will air both sessions on the SEC Network. The NCAA Championship rounds will air on the ABC/ESPN networks. Alabama head coach Dana Duckworth said it is exciting for the sport's growth and an honored to be the first regular-season meet televised on ABC.
"We are very fortunate to have such strong broadcast partners, which has allowed us to take Alabama gymnastics from a national to a global presence," Duckworth said. "We are beyond grateful and honored to have earned the opportunity to take part in the first regular-season meet to air on ABC. This is a historic moment in the growth of our sport and we can't wait to be a part of it."
The defending SEC Champions kick off their season on January 9 at Oklahoma at noon on ESPN 2, followed by the big match-up against the Florida Gators on ABC at 2 p.m. After two road match-ups, The Tide will open up with Kentucky for the first home match-up at 6:30 p.m. on the SEC Network, followed by seven more match-ups in the state of Alabama.
Full TV Schedule:
Jan 9 - at Oklahoma 12:00 pm ESPN 2
Jan 14 - at Florida 2:00 pm ABC
Jan 21 - vs Kentucky 6:30 pm SEC Network
Jan 28 - at Auburn 8:00 pm ESPN 2
Feb 4 - vs Western Michigan/North Carolina 7:00 pm SEC Network+
Feb 11 - vs Georgia 6:30 pm SEC Network
Feb 18 - at LSU 8:00 pm ESPNU
Feb 25 - vs Missouri 5:00 pm SEC Network
March 4 - vs Arkansas 7:00 pm SEC Network+
March 6 - at Elevate the Stage 1:00 pm (tv network not announced)
March 19 - SEC Championship 2:30 & 7:00 pm SEC Network
Duckworth and the Tide will close out the regular season in Huntsville against the Auburn Tigers and Georgia Bulldogs on March 6. The Tide will look to defend their SEC title and make another trip to the NCAA Championship.
The 10 Greatest Athletes from Alabama
SEC Coaches as Halloween Candy
Everyone in the South has strong opinions on football coaches and Halloween candy. Why not pair the two together?
Crimson Tide Will Anderson Jr. 90s Playlist
Here are some songs that we think Alabama Crimson Tide player Will Anderson Jr. should add to his playlist, or better yet, he should just listen live on the free WTUG app.