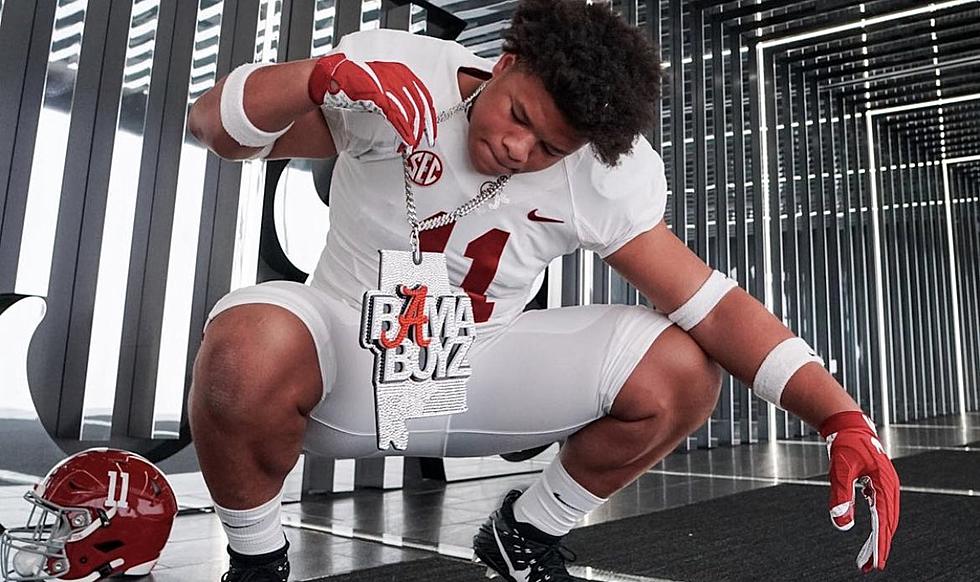 Top In-State Defensive Lineman Names Crimson Tide in Top 4
Photo Courtesy of @JosephAHastings on Twitter
The state of Alabama has always boasted strong high school football with great coaches and top tier talent. The upcoming senior class of 2023 happens to be one of the most talent rich classes in recent memory, featuring five 5-star players, all on the defensive side of the football.
One of the 5-star prospects, defensive lineman Peter Woods recently told On3 Sports that he has narrowed down his list of potential schools to a final four.
Woods, out of 7A powerhouse Thompson High School is down to just Alabama, Oklahoma, Clemson and Florida for his college services.
He's being recruited by the Tide's defensive line coach Freddie Roach, and 247Sports Recruiting expert Tim Watts has already Crystal Ball projected Woods to choose the Crimson Tide.
According to the 247Sports Composite rankings, Woods is considered the No. 5 player in the state of Alabama and considered the No. 28 best prospect in the nation in the class of 2023.
Woods, while being one of the best players in the state, is not even considered the best prospect on his own team. The stacked Thompson Warriors also feature 5-star prospect, cornerback Tony Mitchell.
Mitchell also recently announced his top five schools that he's considering and the Alabama Crimson Tide are also one of his finalists.
Woods has won three straight 7A state championships with the Warriors. He recorded 11 sacks and 26 tackles for a loss in 2021. He missed time during his junior year but emerged in the 2020 state title game with five tackles and one for a loss.
The Tide is quite familiar with prospects out of Thomson, Alabama added two Warriors in the 2022 class with Jeremiah Alexander and Tre'Quon Fegans. 
Alabama's Seventh Spring Practice 2022
The Alabama Crimson Tide holds practice on Thursday at the Hank Crisp Indoor practice facility. The Tide is preparing for a Saturday scrimmage this weekend.
The Top 10 Hottest Alabama Players from the 2021 Season
Alabama has seen its fair share of smoke shows and the 2021 team is no exception. We look back on the season and rank our top 10 hottest players; some we will see next year, and others we will mourn not seeing in Crimson again.
Top Stories from the Tuscaloosa Thread (3/21 - 3/27)
11 of the Top Stories published by the Tuscaloosa Thread during the week of March 21st, 2022.