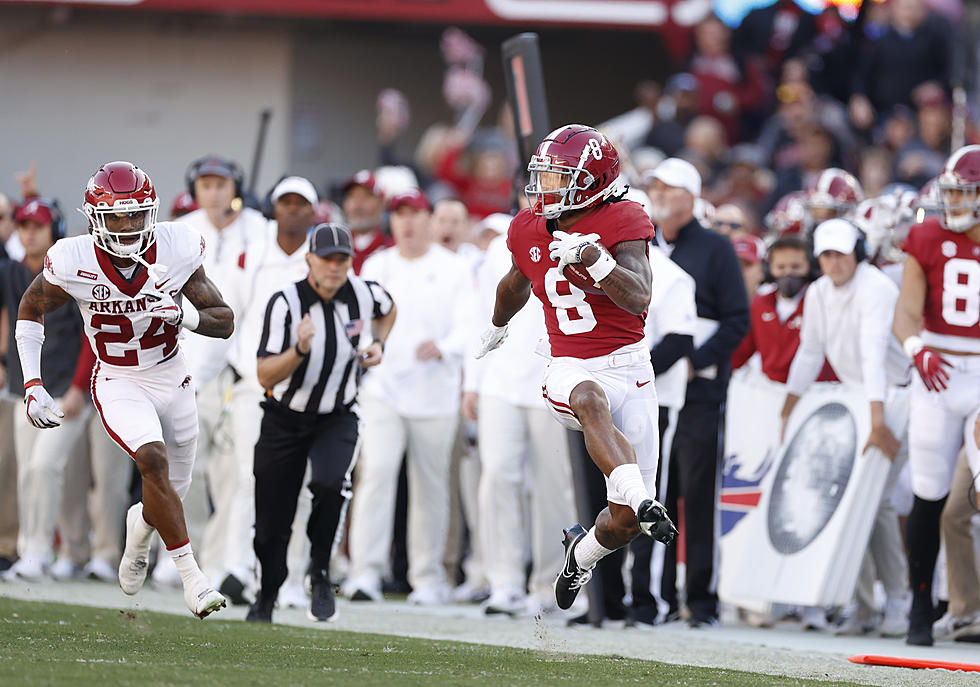 Watch: John Metchie Mischievously Grins While Talking About Dawgs Defense
Crimson Tide Photos / UA Athletics
Sometimes all it takes is a look, something in a person's body language that makes you wonder, 'do they know more than they're letting on?'.
Alabama's leading wide receiver John Metchie recently met with the media and left fans to wonder if the veteran receiver had something up his sleeve.
Is someone off the Metchie's side making a funny face? Or does he not believe the "coach speak" that's coming out of his mouth?
Perhaps a teammate or staff member is doing something silly to distract the Canadian receiver or perhaps Metchie suspects he can find success against the Georgia secondary.
The junior receiver has hauled in 90 receptions for 1,045 yards while scoring seven touchdowns in 2021. Metchie has been the Tide's top target this season and has really come on strong the last two weeks.
He's caught 10 or more passes for over 150 yards in each of the last two weeks and more importantly he caught the game-winning 2-point reception in the fourth overtime in the 2021 Iron Bowl.
The Georgia defense has been historically good this season, challenging opponents for every yard and only allowing 6.92 points per game.
The Bulldogs have only really allowed three wide receivers to find success in the 2021 campaign. Clemson's Joseph Ngata caught six passes for 110 yards, South Carolina's Josh Vann caught three passes for 128 yards and a touchdown and Tennessee's Cedric Tillman caught 10 passes for 200 yards and a touchdown.
Do these performances give Metchie confidence going into Saturday's matchup?
No one else had over 100-yards receiving in a game against Georgia, only Kentucky's Wan'Dale Robinson and Tennessee's Velus Jones hauled in over five receptions with 12 and eight respectively.
The Bulldogs held Arkansas's Treylon Burks to just three receptions and 10 yards, Burks recently put up eight catches for 179 yards and two touchdowns against the Crimson Tide defense.
Metchie will need to be ready to shoulder a big load in Mercedes Benz Stadium. He and Jameson Williams will be relied on to move the Bama offense down the field as the Crimson Tide likely enters the game with only one running back.
If the Tide wants to ensure its place in the College Football Playoff, both Mechie and Williams will need to find success attacking the Georgia defense down the field in the SEC Championship Game.
Alabama Crimson Tide All-Time Receiving Leaderboard
Alabama Non Con Opponents
Alabama Football's Second Fall Scrimmage
The Crimson Tide was back at it on Saturday in Bryant-Denny Stadium. The Tide was more focused on execution of the offense and defense as the Tide is two weeks away from playing Miami in the season opening game.