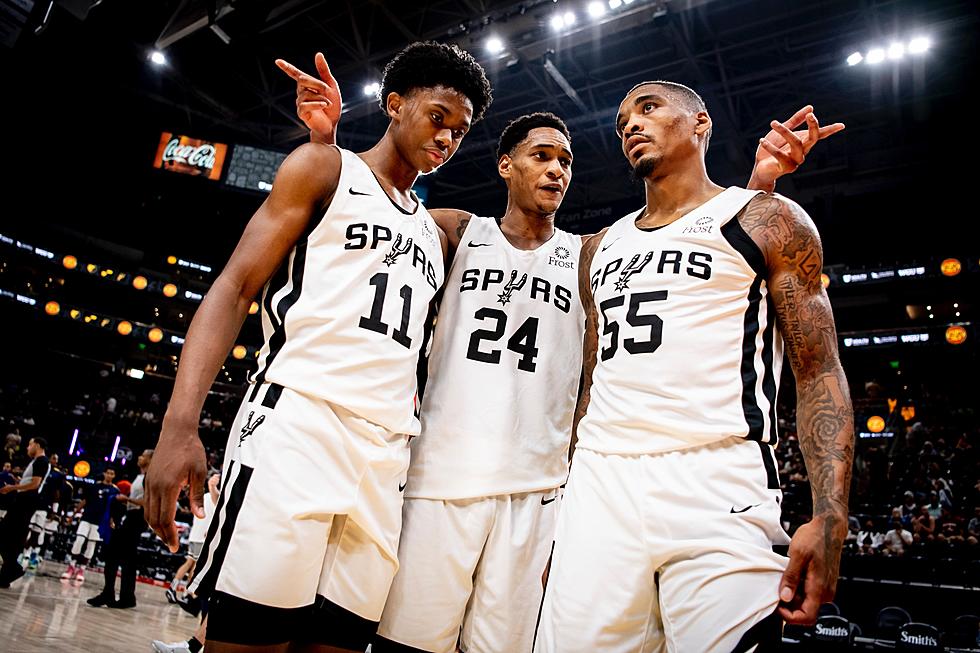 WATCH: Josh Primo Inks Rookie Deal with Spurs
Photo Courtesy of @Spurs on Twitter
Former Crimson Tide guard and 12th overall pick in the 2021 NBA Draft, Josh Primo, is officially a San Antonio Spur. The 6-foot-6 wing from Toronto, Canada signed his rookie deal this week, becoming the youngest player in the NBA at just 18 years old.
While the official terms of Primo's contract have yet to be revealed, the rookie is expected to earn somewhere in the neighborhood of $4 million in his first year.
Joining the Crimson Tide in 2020 after reclassifying in his junior year of high school, Primo was a four-star prospect and instantly became an impact player, becoming a starter by just the eighth game of the year.
Displaying traits of great athleticism and versatility paired with adept defensive awareness, the lengthy wing showed draft scouts more than enough in his one season. Despite putting up relatively mundane numbers of 8.1 points, 3.4 rebounds and just under one assist per game, Primo's shooting percentages and potential are what solidified him as a lottery selection.
Knocking down 43.1% of his shots as well as 38% of his three-pointers in his one season, Primo also performed extremely well at the NBA combine, further leading to his high selection.
With the NBA Summer League in full swing, the fresh-faced rookie got a chance to showcase his talent in the first few of the Spurs' contests, averaging 12 points, two rebounds and 2.3 assists on 35.3% shooting through three games. In his first ever performance in an NBA uniform, Primo went for 17 points on 40% shooting, adding three assists and two blocks.
With start of the NBA season planning to be mid-October, Primo has a few months to adjust to the new speed of the game and prepare for a season in which he will likely see a good amount of playing time. The Spurs are coming off a tough year in which they finished 10th in the Western conference and were bounced in the first game of the Play-In tournament and are looking to return to the playoffs.
After trading away their star DeMar DeRozan in return for future picks and role players as well as signing Doug McDermott and the NBL MVP, Jock Landale, out of Australia this offseason, 2021 is shaping up to be an interesting year for San Antonio. Luckily for Spurs fans, Primo is young and has time to stick around for the future.
Highest Rated Recruits in Bama Hoops History
Take a look at the highest rated recruits to play for Alabama since 2000 according to 247Sports.
Alabama Basketball Players Who've Played in the NBA
Bama All Time Steals