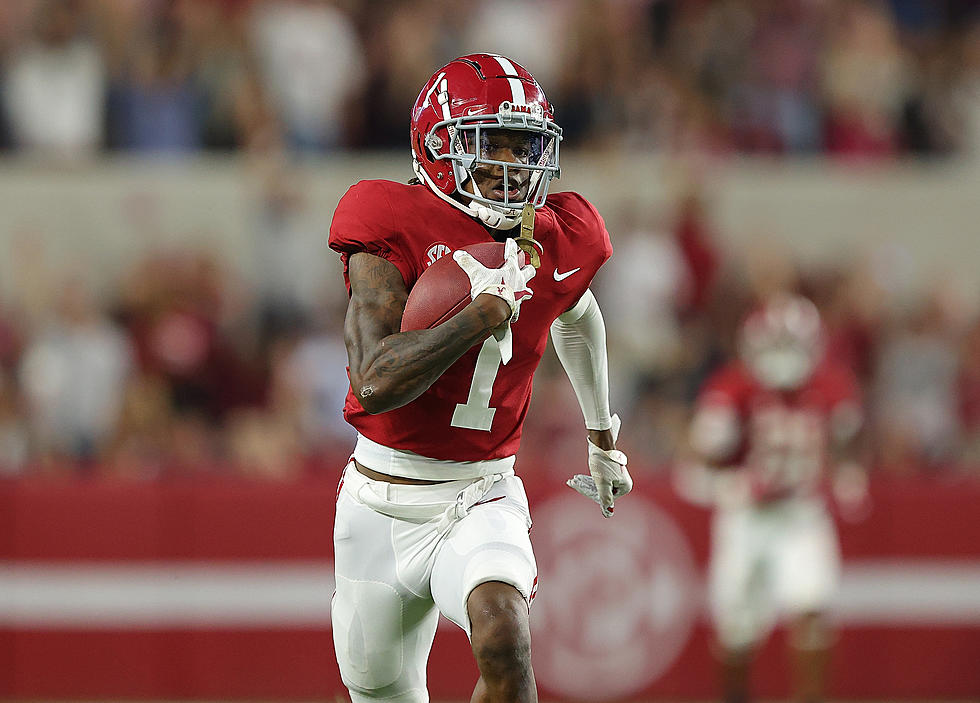 Why Falling in the Draft Will Benefit Jameson Williams
Getty Images
Viewed by many NFL draft experts as a top-10 pick heading into the national championship game against Georgia, Alabama wide receiver Jameson Williams saw his draft stock take a big hit when he suffered a torn ACL.
Although Williams will lose millions of dollars in his first contract, falling in the draft could benefit the star wide receiver in the long run. In a recent mock draft, ESPN NFL Draft analyst Todd McShay has the Buffalo Bills selecting Williams at No. 25.
"Scary. That's the first word that comes to mind for an offense featuring Josh Allen, Stefon Diggs and Williams," McShay said. "Sticking Williams' burner speed with Allen's rocket arm is a big-play recipe."
"Josh Allen, I feel like he's a great quarterback; I would love to play with Josh Allen," Williams said. "I've had a meeting with the Bills. Hopefully we can stay in contact, too."
In a league that has become quarterback and weapons reliant, Buffalo should absolutely look to add Williams to Josh Allen's arsenal. The goal for every NFL player is to get paid in that second contract and playing with an All-Pro level quarterback like Allen will help him reach that.
New England, Green Bay and Tennessee are also teams drafting in the 20s that could be looking to take a wide receiver. They are teams that are either established at quarterback or are a perennial playoff team.
The St. Louis, Missouri native quickly burst onto the scene for the Crimson Tide. Against Miami in week one, Williams hauled in four receptions for 126 yards, including a 94-yard touchdown from Bryce Young. He finished the 2021 campaign with 79 receptions for 1,572 yards and 15 touchdowns, he led the Southeastern Conference in the latter two, earning First-Team All-American honors.
Williams became the first player Alabama history with four receiving touchdowns of 75-plus yards and his 11 touchdowns of 30-plus yards or more led the country.
Last week, he spoke at the NFL Combine in Indianapolis and said is he ahead of schedule in his rehab roughly six weeks after knee surgery.
"I'm hearing I'm ahead of schedule," Williams said. "I'm six weeks out of surgery. I've been walking well. Walking without the brace for about two weeks, walking without the crutches for about three weeks. Everything's been going well. I've just recently been getting in the pool, doing some running motions. Everything's just been going good, really."
The 2022 NFL draft will held in Las Vegas Thursday, April 28 through Saturday, April 30.
Meet The 2021 Alabama Offense
The 2021 Alabama offense only brings back three returning starters from the 2020 squad. Get ready for the new season by getting familiar with this year's Crimson Tide offense.
The Anti- Alabama Team
Alabama has lost 23 games while Nick Saban has been in charge. These athletes were pivotal in helping to secure a rare victory for their teams.
Northside Rams Defeat the Berry Wildcats in Week 1 2021
On a rainy night in north Tuscaloosa County the Northside Rams (1-0) took down the Berry Wildcats (0-1) 37-6 to open the 2021 season with a rivalry game victory. The Rams were dominant in the trenches from the start of the game and capitalized off crucial turnovers to take control of the contest.