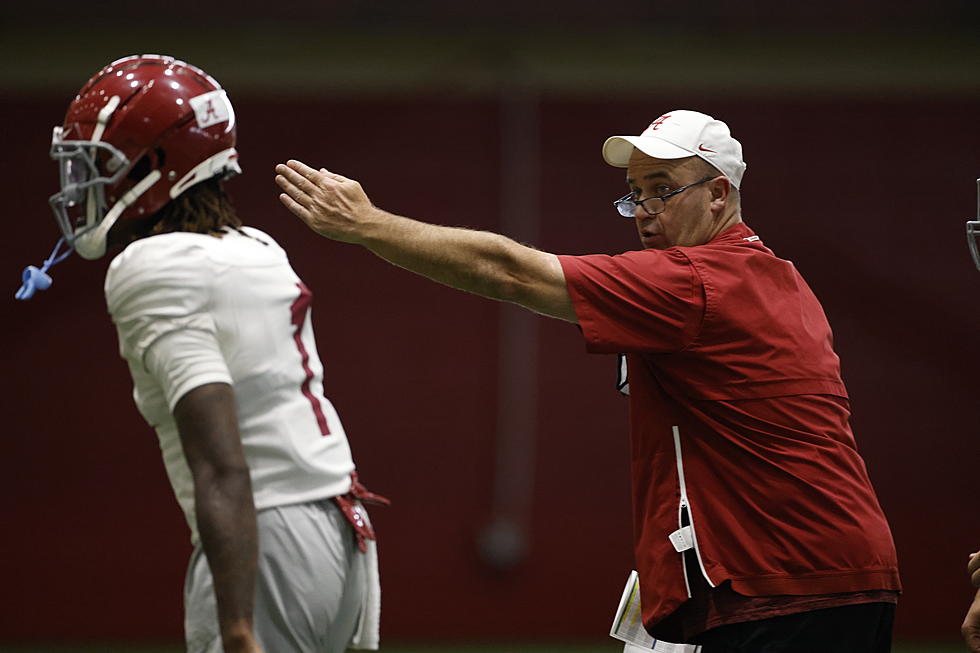 Alabama Offensive Coordinator Bill O'Brien Returns To In-Person Playoff Practice
Crimson Tide Photos / UA Athletics
The No. 1 Alabama Crimson Tide is set to take on the No. 4 Cincinnati Bearcats in the College Football Playoff semifinal. The Crimson Tide traveled to Dallas for the 86th Goodyear Cotton Bowl without its offensive coordinator and offensive line coach due to both testing positive for COVID-19.
Alabama offensive coordinator Bill O'Brien announced during his media availability that he has been cleared from COVID-19 protocol and has returned to in-person practice.
"Personally, I'm excited to be back. I got in this morning after talking with our trainer, Jeff Allen, about the changes to the SEC protocols. And throughout the time when I was in Tuscaloosa, I've been able to do my job virtually," says Bill O'Brien.
O'Brien and offensive line coach Doug Marrone utilized Zoom to coach the team while maintaining quarantine status but said it wasn't a big barrier to overcome.
It wasn't weird, only because I've had the experience in the national football league last year, everything was Zoomed relative to this has been  going on for a couple years
now in our country. So I had experience with the Zoom," said O'Brien. "I think the biggest thing is that Coach Saban made everything normal. It was like I was actually
there. So I was in every meeting. And then also to our video department, Daniel and Kayla, they did an unbelievable job setting me up every day."
The return of O'Brien puts to rest any worry that the Tide may have had to use an alternate play-caller on Friday and puts Heisman Trophy winning quarterback at ease.
"He did a great job of, you know, he was still Zooming in and he was still running every meeting virtually so he was still obviously helping us out throughout everything. He was still talking to us but when he's not there in person you obviously lose that instant feedback and that presence," said sophomore quarterback Bryce Young.
The Crimson Tide will take on the Bearcats on Friday, Dec. 31 at 2:30 p.m. for the right to go to the national championship game in Indianapolis.
2021 SEC Championship Game Alabama vs. Georgia
The Alabama Crimson Tide defeated the No. 1 ranked Georgia Bulldogs 41-24 to win the 2021 SEC Championship.
Alabama's Top 10 Athletes - Fall 2021
The Alabama Crimson Tide boasts an extremely successful athletic department with amazing athletes playing multiple sports. The top 10 athletes include national champions, an Olympic athlete, SEC champions and various record holders.
How Do Fans Sing 'Dixieland Delight' in Tuscaloosa, Alabama?
Alabama football fans add
a few extra lyrics
to 'Dixieland Delight' when it's played on the speakers in Bryant-Denny in Tuscaloosa, Alabama. What are they singing? And Why?