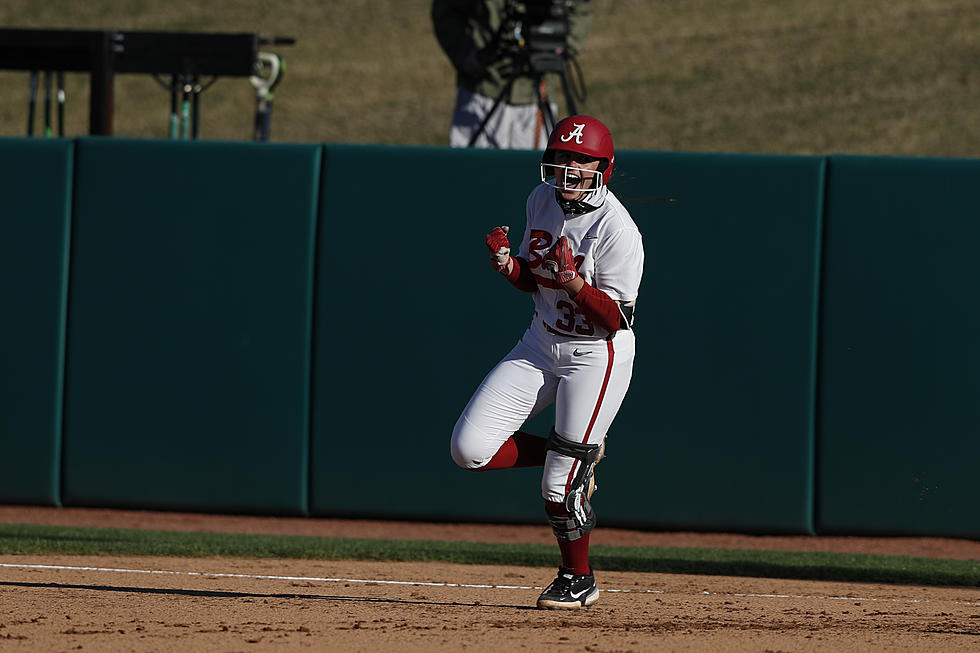 Alabama Softball Run Rules Aggies 11-3
Crimson Tide Photos / UA Athletics
After losing the Kentucky series on the road, Alabama came out swinging at Rhoads Stadium in the first of its three-game series against Texas A&M. The Crimson Tide ended its two-game losing streak with a 11-3 run rule over the Aggies in five innings.
Left-handed batter Alexis Mack led off for the Crimson Tide against the Aggies. Her ability to lay down a bunt and beat out the throw with speed proved important for Alabama in the first inning.
KB Sides drew a walk and Bailey Hemphill was hit by a pitch to load the bases for Kaylee Tow. Tow's RBI single put Alabama on the board first and loaded the bases for Claire Jenkins.
After seeing just one pitch from the Aggie's starting pitcher Makinzy Herzog, Jenkins sent the second over the left field wall right by the YES! YES! YES! foul pole.
"I knew her plan was going to be coming in after watching a lot of film on a righty she was going to work the ball inside," said Jenkins. "Since the first pitch wasn't all the way inside, I just knew that if the pitch came inside it's going to be right there. So once I saw it I just took a swing."
In the bottom of the second inning, Bailey Hemphill became one walk closer to breaking a record. She drew her 199th walk to tie Haylie McCleney for most career walks.
Two innings later after Alabama extended its lead to six runs, She drew a leadoff walk to pass McCleney with 200 career walks to become the new record-holder.
Hemphill's patience at the plate allowed her to draw those five-pitch walks.
Hemphill continues to come close to breaking records this season and still has some time.
She gained two more RBIs to raise her career total to 213. This now puts her two RBIs away from surpassing Kaila Hunt who currently has 215 RBIs and holds the second-place spot in the career record book.
Alabama's lineup was productive against Texas A&M producing back-to-back hits in multiple innings.
"I love to see that," said head coach Patrick Murphy. "We didn't have too many holes in the lineup… there were a lot of people getting on base, taking a walk, getting a hit, we had a couple hit by pitches too."
Those hits and baserunners were the reason that the Crimson Tide added five more runs in the bottom of the fifth to secure its 11-3 win over the Aggies.
SEC Mascots
CHECK THEM OUT: States With the Best and Worst Commutes