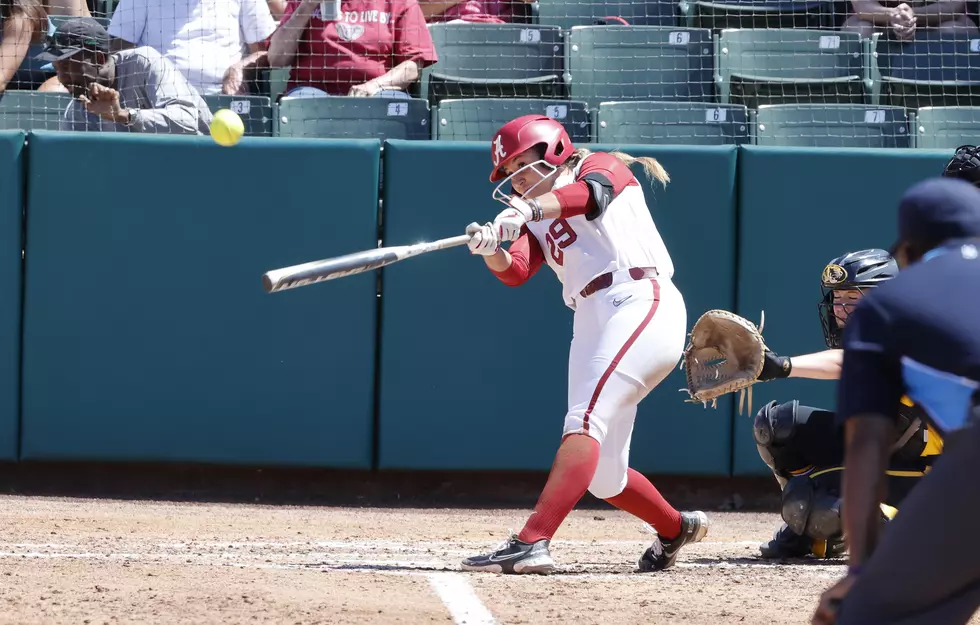 Alabama Clinches Series On Controversial Home Run
Crimson Tide Photos / UA Athletics
On senior day for No. 8/6 Alabama Softball, the Crimson Tide took down No. 24/23 Missouri, 3-1, to close out its 2022 regular season schedule and clinch the series.
All three of Alabama's runs came from an Ashley Prange shot to left field in the fourth inning with two runners on base. While it looked clear that the ball came in contact with Mizzou outfielder Casidy Chaumont before hitting the top of Rhoads Stadium's crimson wall, the home run call was confirmed upon review.
After the game, Alabama coach Patrick Murphy gave more insight into the play that cost Mizzou three runs.
"When they [officials] came back, it was not a reviewable call – It was called a home run."
Freshman infielder Kali Heivilin earned her first start against an SEC opponent on Sunday, eighth in total, and proceeded to secure two of Alabama's five hits in Game 3.
"You know, we say all the time, 'if you get an opportunity, be ready for it,' Murphy said, "you guys saw, she was absolutely ready today it was incredible."
In the circle, Montana Fouts completed her 16th complete game of the season and improved to 22-5 as a starter. She gave up her first error of the year on a routine throw to first, giving the Tigers a 1-0 lead in the fourth. She settled in without a pep talk from Murphy in finished the appearance giving up just four hits and a walk while dealing out six strikeouts.
The victory marks the end of a 41-10 regular season for the Tide and secures Alabama the No. 2 seed in the SEC tournament.
The team will have a few short days of rest because of the earned BYE in the first round before traveling to Gainesville, Florida. Texas A&M and South Carolina kick off the tournament on Tuesday in a play-in game and Round 1 begins on Wednesday.
Alabama will face the first-round winner between seventh-seeded Missouri and tenth-seeded Auburn on Thursday. The Crimson Tide's second-round game is scheduled for 1:30 CST and can be found on the SEC Network.
For more from J.R. and all of the talented staff at Tide 100.9, make sure to check out our content at tide1009.com and on the Tide 100.9 app.
Highest Earning Bama Pros of All-Time
The University of Alabama is known for constantly cranking out world-renowned athletes, but who of the best active or former pro players have the highest career contract earnings?
The 10 Greatest Athletes from Alabama