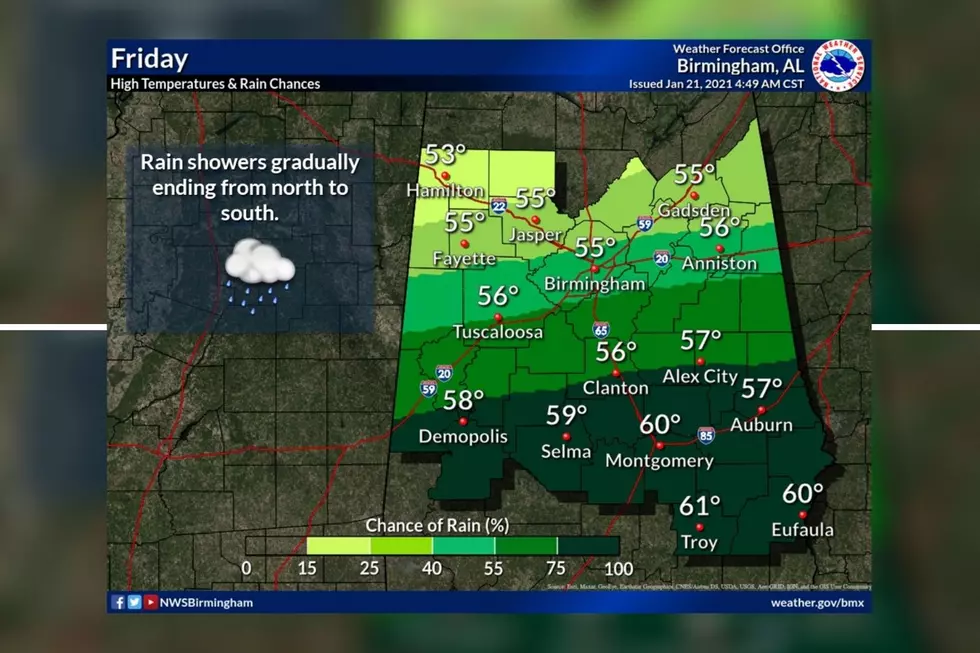 Alabamians, Be Sure to Grab Your Umbrella
National Weather Service
Enter your number to get our free mobile app
I can sum up the next few days in one word, rain. There could be several rounds of rain expected through early next week with a break on Saturday and part of Sunday. This is due to an upper wave approaching from the west and a stalled surface front. Also, I am monitoring the potential for active weather on Monday.
A vast amount of the state will have the chance for rain for close to 36 hours. However, parts of Northern Alabama could become rain-free at times tomorrow. Rain total amounts could reach one inch. Be sure to grab your umbrella's.
Today (Thursday): Widespread light rain showers
Tonight (Thursday): Scattered to widespread rain showers
Friday: Rain showers gradually ending from north to south
According to the National Weather Service Birmingham, for today (Thursday), there is an 80% chance of precipitation all day for Tuscaloosa. Friday starts with a 50% chance of showers, then tapering off to 20%.
If you have any plans that involve being outdoors or running errands, Saturday would be the best day to get that done. According to the National Weather Service Birmingham, it should be sunny with a high near 58. Some areas could be partly sunny. Currently, the thought is that Sunday showers will be likely and increasing in the evening.
Monitoring Monday
The current thought process is that our area could be in the low 70s for Monday. Also, showers and thunderstorms are possible. I will be keeping a watch for Monday as there could be the potential for some strong to severe weather. Right now, I am stressing the word "potential." However, I wanted to share my thoughts to make you aware. I will be sure to bring you updates as we get closer to Monday.
(Source) Click here for more from the National Weather Service Birmingham.
Things To Have Before It Rains
The Colors Of The Sky
Clouds: Artwork In The Sky