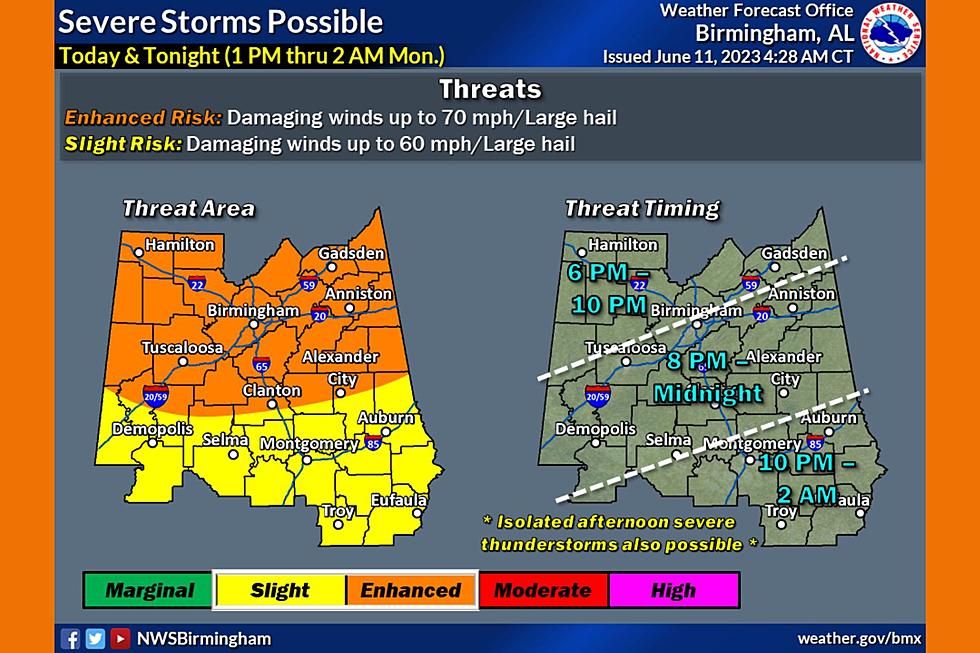 Alert: 2 Rounds of Severe Weather Today in West, Central Alabama
National Weather Service
The National Weather Service in Birmingham has issued a  Severe Thunderstorm Watch for Bibb, Blount, Calhoun, Cherokee, Clay, Cleburne, Etowah, Fayette, Jefferson, Lamar, Marion, Pickens, Shelby, St. Clair, Talladega, Tuscaloosa, Walker, Winston [AL] till Jun 12, 2:00 AM CDT
The Townsquare Media coverage area is facing 2 rounds of possible severe weather. Our activity is part of a larger system that is impacting portions of "Texas and Oklahoma to the mid-South and Ohio Valley," said The Weather Channel.
Risk Areas Have Been Upgraded
James Spann, ABC 33/40, and Townsquare Media Tuscaloosa Chief Meteorologist said that the Storm Prediction Center has now "defined an "enhanced risk" (level 3/5) of severe thunderstorms for about the northern half of Alabama a "slight risk" (level 2/5) extends south to the Florida line, and a "marginal risk" (level 1/5) is in place for Mobile and Baldwin counties."
Timing of Severe Weather
Our advice is to stay weather aware as our area is facing the potential for 2 rounds of active weather.
The National Weather Service in Birmingham said their "confidence has increased for a damaging wind threat this evening. This is the main reason for the upgrade."
Round 1
There is the possibility of "isolated severe thunderstorms this afternoon between 1 p.m. and 6 p.m."
Round 2
The current thoughts are that the "main cluster of severe thunderstorms is moving in from the northwest this evening and tonight. This is roughly between 6 p.m. through Monday 2 a.m."
Threats
"The main threat is from strong winds, but some hail is also very possible," said Spann.
Enhanced Risk Area
Damaging winds up to 70 mph
Large Hail
Slight Risk Area
Damaging winds up to 60 mph
Large Hail
Upcoming Outlook
In addition, this unsettled and active weather pattern could stick around for the next several days. We will continue to monitor that possibility.
(Source) Click here to follow the Facebook Page for James Spann. For more from the National Weather Service Birmingham, click here. For more information from The Weather Channel, click here. 
If the State of Alabama Had an Official Scent, What Would It Be?
Alabama's Most Affordable Places to Live
Top 20 Safest Alabama Cities
Take time to find out where your city ranks on the safest Alabama cities list.
Why You're Lucky to Live in Tuscaloosa, Alabama
Tuscaloosa isn't THAT bad of a place to live. Here's why you're actually lucky to live in the City of Champions.