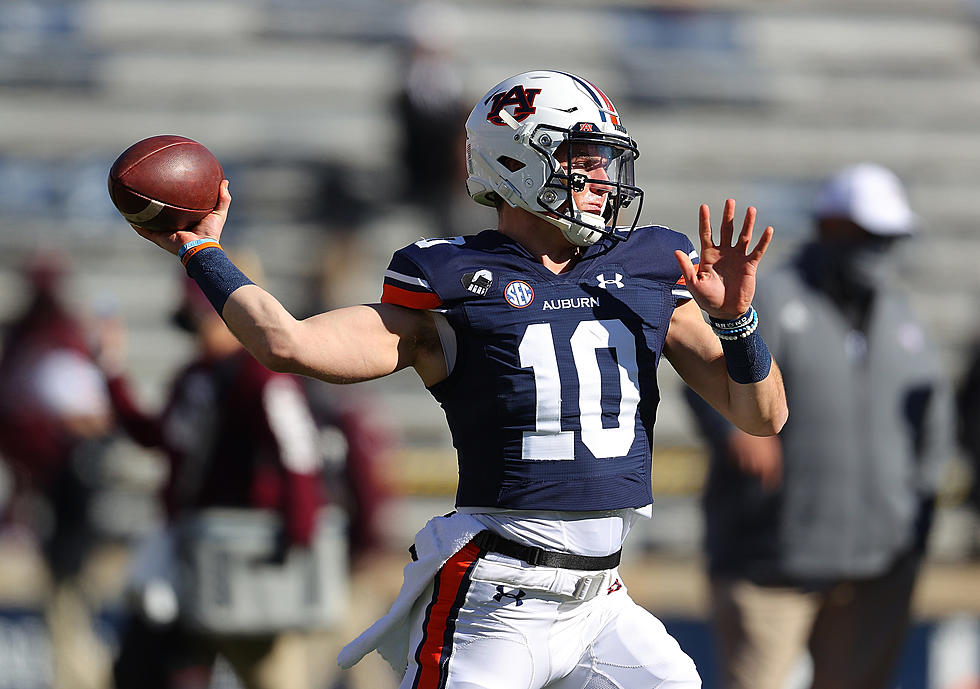 Auburn Starting Quarterback Enters Transfer Portal
Getty Images
Auburn junior quarterback Bo Nix announced through his social media accounts on Sunday night that he would be entering the transfer portal. Nix has started for the Tigers for the last three seasons, however his 2021 season was cut short due to an ankle injury.
The former Alabama Mr. Football winner from Pinson Valley High School is the son of Auburn quarterback Patrick Nix.
In his two starts in the Iron Bowl, Nix completed 38-of-68 passes for 400 yards with one touchdown and two interceptions. He also took 15 carries for 43 yards and scored two other rushing touchdowns while leading the Auburn Tigers to a 1-1 record.
With three seasons of SEC starting experience, Nix will surely be in high demand in the transfer portal.
He concludes his Auburn career with 7,251 yards passing with 39 touchdowns and 16 interceptions along with 859 yards rushing and 18 touchdowns with a 21-13 record as a starter.
Nix made his mark in his first college football game in 2019, leading the Tigers to a dramatic win over the Oregon Ducks with the help of Bryant High School grad Seth Williams.
Nix will now transfer with two seasons of eligibility remaining given that the 2020 season did not count against eligibility due to COVID-19. He will be immediately eligible in 2022 when he finds a new school thanks to the NCAA's adjustment of transfer rules this past summer. Additionally, it's worth remembering he could opt to return to Auburn should he so choose.
2021 SEC Championship Game Alabama vs. Georgia
The Alabama Crimson Tide defeated the No. 1 ranked Georgia Bulldogs 41-24 to win the 2021 SEC Championship.
Alabama's Top 10 Athletes - Fall 2021
The Alabama Crimson Tide boasts an extremely successful athletic department with amazing athletes playing multiple sports. The top 10 athletes include national champions, an Olympic athlete, SEC champions and various record holders.
Crimson Tide Will Anderson Jr. 90s Playlist
Here are some songs that we think Alabama Crimson Tide player Will Anderson Jr. should add to his playlist, or better yet, he should just listen live on the free WTUG app.