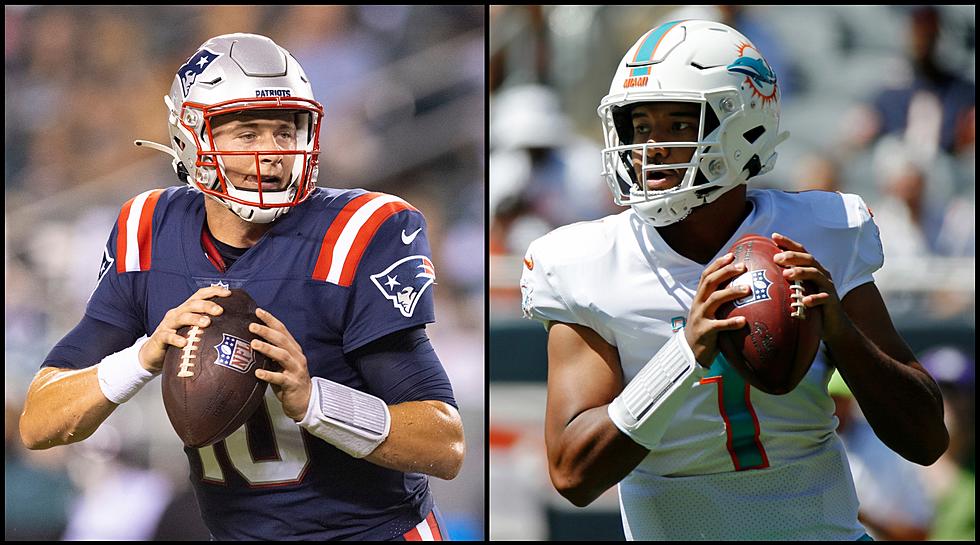 Bama Bowl: Tua Wins Inaugural Matchup Over Mac Jones
Getty Images
In the inaugural matchup of former Alabama quarterbacks - Mac Jones with the Patriots and Tua Tagovailoa with the Dolphins - Miami sealed the close game in Foxboro, MA with a 17-16 victory.
While having a rougher day in the stat book than his counterpart and former teammate on the Patriots, second-year Miami QB Tua Tagovailoa secured a victory for the Dolphins. The "Hawaiian Prince" finished the afternoon 16-of-27 with 202 passing yards, one touchdown, and an interception on a broken play in the fourth quarter.
Dolphins rookie WR Jaylen Waddle scored the first touchdown of his young NFL career on a three-yard play action in the red zone and ended his first appearance with four receptions, 61 yards, and a touchdown.
"There's never been a perfect game played," Said Miami HC Brian Flores.
"There are always corrections to make, things we can approve on. especially early in the year.. but our guys work hard, they worked hard throughout the preseason, it's important to them."
Patriots rookie QB Mac Jones ended his first starting appearance at home 29-of-39 through the air, 281 passing yards, and a touchdown. Fellow Alabama alumnus RB Damien Harris, who won the starting job in the offseason, rushed for 100 yards on 23 carries and had 17 yards from two receptions.
"We didn't do enough to win," said Patriots HC Bill Belichick.
"Really, all across the board, we gotta do a better job... We gotta coach better, play better, execute better, and play better situational football than we did today."
For Bama fans, the next opportunity to see Tua Tagovailoa, Jaylen Waddle, and the Dolphins comes Sunday, Sept. 19 at 12:00 p.m CT as Miami hosts the Buffalo Bills (0-1). For Mac Jones, Damien Harris, and the Patriots, they'll get a chance to get their season back on track with another inter-division matchup, on the road, against the New York Jets (0-1).
For more from J.R. and all the talented interns at Tide 100.9, make sure to tune in for Tide Tonight on Wednesdays, and Thursdays at 6:00 pm. You can see all of our content at tide1009.com and on the Tide 100.9 app.
Meet The 2021 Alabama Offense
The 2021 Alabama offense only brings back three returning starters from the 2020 squad. Get ready for the new season by getting familiar with this year's Crimson Tide offense.
The 10 Greatest Athletes from Alabama
Lies Auburn Fans Tell Themselves About Bama Football
Alabama Crimson Tide All-Time Rushing Leaders