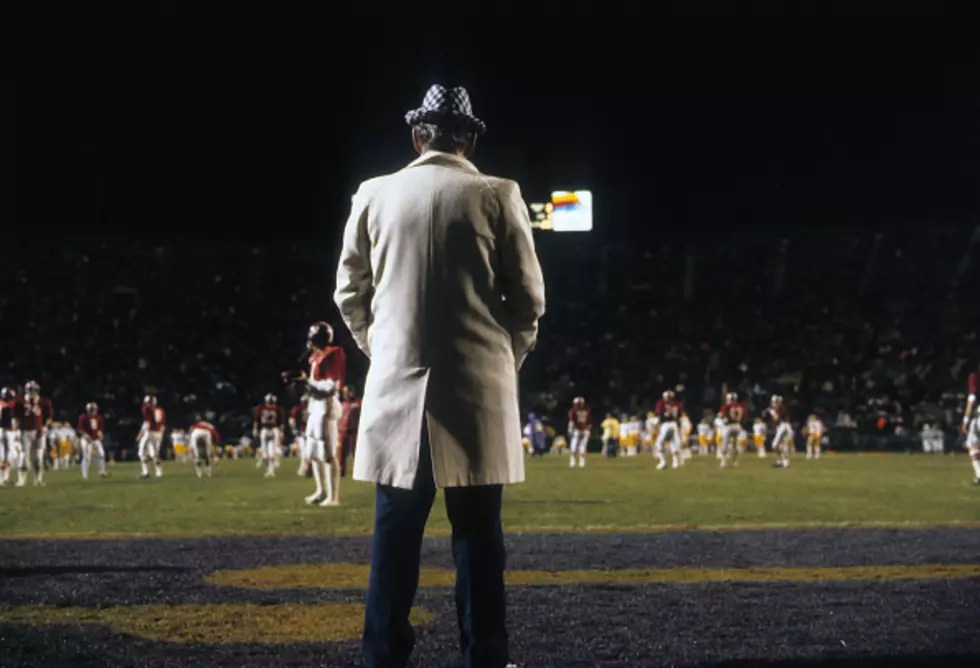 Dreaming of 1972 in Tuscaloosa: Bear Bryant Hats Sell for Over $50,000
Sports Illustrated/Getty Images
Classic memorabilia of the past has always been something I've enjoyed looking at. I even have some vintage Alabama Crimson Tide hats that I wear now and again around the office. But when something is very rare, and unbelievably important to Crimson Tide history, that's when things get very pricey.
Enter 2 Alabama hats, and they aren't just normal old regular Crimson Tide hats. No, these hats belonged to one person: Paul "Bear" Bryant.
Yes, THE Bear Bryant owned these hats. So they're already going to command high attention from any Tide fan.
The hats themselves were found during a restoration of one of Bear Bryant's classic vehicles. While looking under the seat, the cosigner discovered the treasured hats under a seat of the 1972 Cadillac.
When these pieces of headwear went to auction on lelands.com, you can only imagine the immediate response. It was, of course, "I have to have these!" The bidding began at a simple $2,500.
Clearly, that number didn't last.
The legendary Houndstooth Hat Bryant wore many a time on the sidelines ended up going to the highest bidder at $28,731.60. But that wasn't the only item up for bidding.
A baseball cap that Bryant would wear instead of a Houndstooth Hat was also on the proverbial table. This hat also bears the famous phrase "I ain't nothing but a winner," that Bear Bryant famously said.
The bidding for the baseball cap started at $500.00, and not surprisingly, ended much higher. The baseball cap was sold for an astounding $25,120.80.
One thing is for certain, there is no way I personally would have been able to afford these!
Alabama Crimson Tide All-Time Passing Leaders
Alabama Crimson Tide All-Time Receiving Leaderboard
Alabama Crimson Tide All-Time Rushing Leaders
Alabama Football Players in the Hall-of-Fame