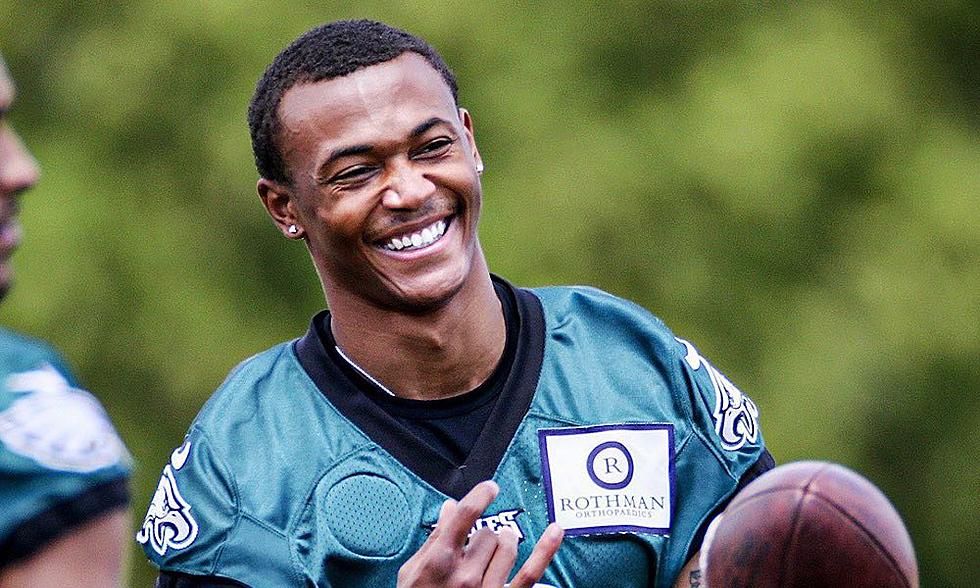 Former Crimson Tide WR Devonta Smith Shocks Eagles Teammate With Injury Advice
Photo courtesy of @PHLEaglesNation on Twitter
Have you ever told someone something and they wondered where you learned it? Why couldn't you have just learned it through long hours of studying?
Following the professional journey of former University of Alabama football players is always fun. Devonta Smith is a player I've been having fun watching in the NFL.
The Philadelphia Eagles are becoming more and more comfortable passing Smith the ball during games. The Eagles recently passed the mic to Devonta Smith during a game and the content was gold!
In a post on their Instagram, the Eagles featured Devonta Smith on their most recent installment of Audible. This is where the team has a microphone hooked up to a select player during the game and we get to hear all the sideline chatter, in-game talk, and more!
Devonta Smith's Audible episode has more than 94,000 views!
We get to hear Smith encourage his teammates throughout the game, display his fashion sense with team uniform suggestions, and even showcase his knowledge of sports injuries.
Smith can be heard telling a teammate to not use a certain piece of equipment on his injury. "You gon' make it sore with that gun," Smith said to his teammate. "That's a bruise it ain't just no soreness it's a bruise. You gon' aggravate it with that gun."
After his teammate asked, "Bama taught you that?" Smith replied, " I graduated exercise science, I know a little something"
I love Smith's reply! Too many times people think that football players are just "dumb jocks." Clearly, Devonta Smith isn't one. Roll Tide!
Crimson Tide Will Anderson Jr. 90s Playlist
Here are some songs that we think Alabama Crimson Tide player Will Anderson Jr. should add to his playlist, or better yet, he should just listen live on the free WTUG app.
Here are 21 Tips to Survive Living in Tuscaloosa, Alabama During Football Season
Believe it or not, some people don't like football. They could care less if there is a game being played. If you ask me, that is completely sacrilegious.
Top 10 States That Have Produced the Most NFL Players in History (Population/Per Capita)
Ever wondered how many NFL players the state of Alabama has produced compared to other states? Here you go!