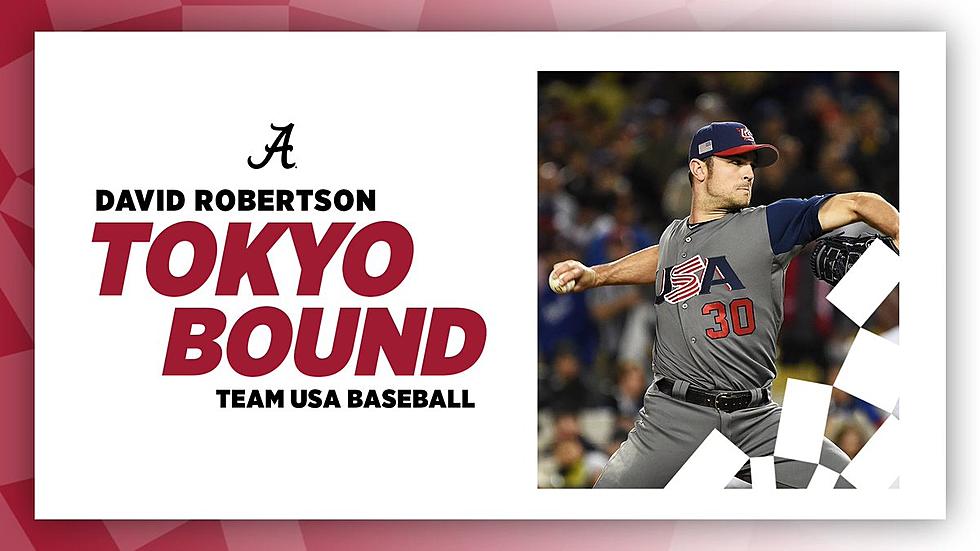 Former Tide Pitcher David Robertson Makes Olympic Team
Curtesy of @AlabamaBSB on Twitter
Former Alabama Crimson Tide baseball pitcher David Robertson has been selected to represent Team USA for the 2020 Tokyo Olympic Games. The Games were pushed back due to last year's Covid-19 global pandemic.
Robertson is one of 12 pitchers and 12 positions players selected from all over the country. Robertson is currently a free agent due to a setback in recovery from Tommy John surgery.
Robertson first played for the Tide in 2005 as a freshman where he appeared in 32 games and started in three. Over his first season, Robertson was 7-5 with a 2.92 ERA. He was named Freshmen All-SEC and Freshmen All-American by Baseball America and Collegiate Baseball Magazine. During his sophomore year at Alabama, Robertson collected a 4-4 record with a 3.02 ERA as well as helping the Tide get to their 25th SEC Championship.
In 2006, Robertson was drafted by the New York Yankees in the 17th round. He played in the minors for two years before being called up in 2008. After nearly six years with the Yankees organization, Robertson became a free agent and later signed with the Chicago White Sox in 2014. Three years later, he was traded back to the Yankees where he remained for two years. In 2019, Robertson joined the Philadelphia Phillies where he required season ending Tommy John surgery.
This past May, Robertson was named to the national team for the Americas Qualifying Event to determine who would be eligible to compete in the Tokyo Olympics. The United States won the event and were allocated a spot to compete in the Olympics. Team USA is set to open the Olympic Games baseball tournament against Israel on Friday, July 30th.
Alabama Crimson Tide Baseball Strikeouts Leaderboard
Look back on Alabama's top 10 strikeout artists in program history.