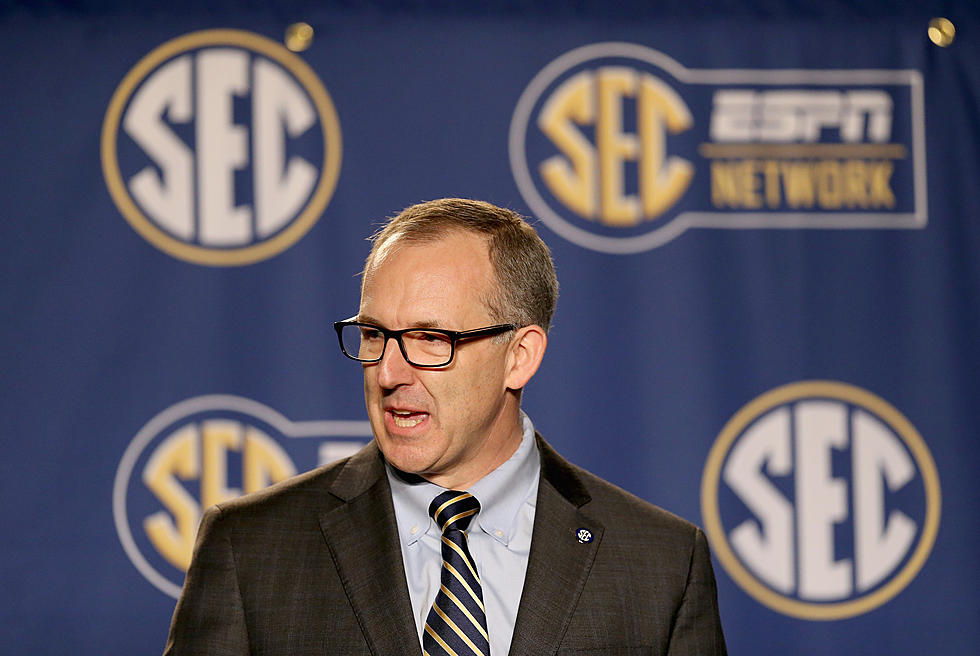 Greg Sankey: '(COVID-19 Vaccines) Maximize Chances of Return to Normal'
Getty Images
SEC Media Days 2021 Day One has come and gone and per tradition Southeastern Conference commissioner Greg Sankey opened the proceedings by addressing the media. Sankey touted his conference's achievements on the playing field, in the classroom and in particular the way the conference navigated the COVID-19 pandemic in the 2020-21 athletic year.
Sankey made his thoughts clear that the path forward to ensure no sports are disrupted in the upcoming year is by ensuring as many people as possible receive the COVID-19 vaccination.
"Let me be clear to our fans, our coaches, to our staff members and to our student athletes. COVID-19 vaccines are widely available, they've proven to be highly effective and when people are fully vaccinated we all have the ability to avoid serious health risks, reduce the virus's spread and maximize our chances of returning to a normal college football experience and to normal life."
With the focus on football this week in Hoover the commissioner revealed how the league is doing as a whole with the vaccine. Football teams who have reached the 80 percent vaccination threshold can forgo masks in the facilities and have relaxed testing protocols.
"Right now, 43 percent of our football teams, that's 6-of-14, have reached the 80 percent threshold in roster vaccination. That number needs to grow and grow rapidly. We have learned how to manage through a COVID environment but we do not yet have control of the COVID environment."
The stipulation of going unvaccinated in the conference can go further than making players and coaches continue to wear masks. A COVID-19 outbreak could mean a team is unable to play a game and may risk a forfeiture.
"You hope not to have disruption but hope is not a plan is the great cliché. We still have roster minimums that exist just like last year. What I've identified for consideration among our membership, is we remove those roster minimums and you're expected to play as scheduled. That means you're team needs to be healthy to compete and if not that game won't be rescheduled and thus to dispose of the game the forfeit word comes up. That's not a policy and what you see are the bookends now for decision making."
Last season the conference had a built-in final week to accommodate postponements due to COVID-19 outbreaks. With the vaccine easily accessible Sankey suggests that no grace will be given to programs who cannot meet their scheduled obligations.
The SEC will kick off its season with the rest of the country on Sept. 4 and the conference schedule will kick off the following week Sept. 11 with Missouri at Kentucky.
How Do Fans Sing 'Dixieland Delight' in Tuscaloosa, Alabama?
Alabama football fans add
a few extra lyrics
to 'Dixieland Delight' when it's played on the speakers in Bryant-Denny in Tuscaloosa, Alabama. What are they singing? And Why?
Alabama Athletes With NIL Deals
The biggest evolution in college athletics history is here. Check out which current Alabama athletes hold NIL deals in this ever-expanding and changing photo gallery.
Alabama Non Con Opponents