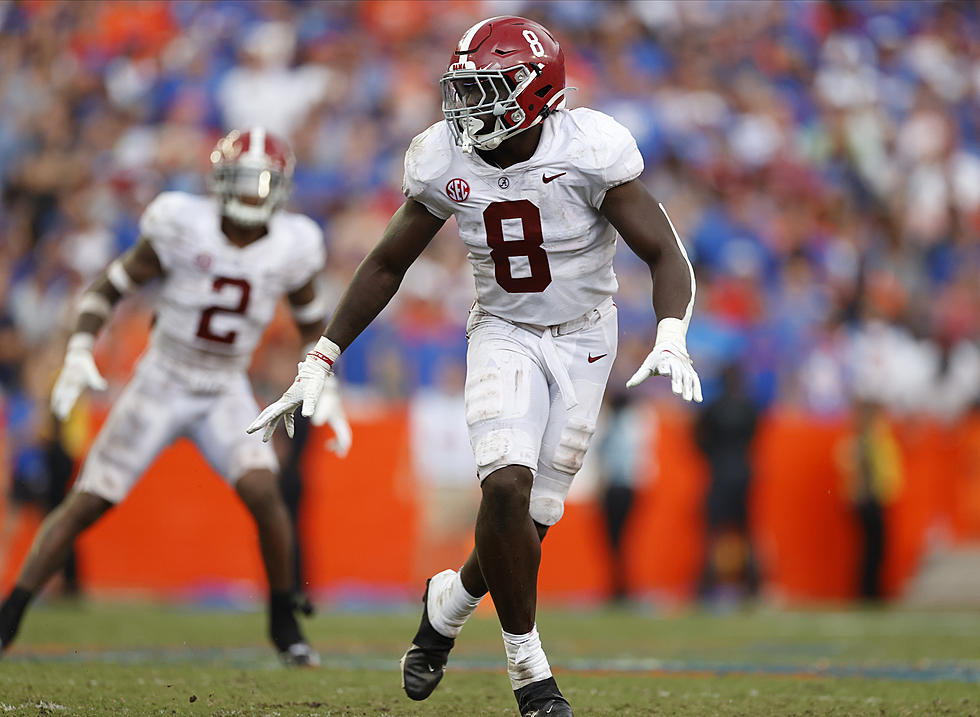 Jameson Williams and Christian Harris' Stock is on the Rise
Crimson Tide Photos / UA Athletics
Two Alabama players stocks are on the rise according to NFL Network analyst Daniel Jeremiah. In his latest top-50 draft eligible prospects, Jeremiah has wide receiver Jameson Williams moving up 10 spots to No. 17 and linebacker Christian Harris up five to No. 39.
In his lone season in Tuscaloosa, Williams caught 79 passes for 1,572 yards and 15 touchdowns. The former high school track star is an explosive downfield target, he became the first player in Alabama history with four receiving touchdowns of 75-plus yards in a season. In fact, Williams led the country in touchdown catches of 20, 30, 40, 50 and 60 yards.
As NFL teams continue to stack weapons on the offensive side of the ball, the speedy wideout can provide tremendous value for any quarterback.
"Williams is a tall, lean and explosive wideout. Everything he does on the field is sudden and fast," said Jeremiah.
"He explodes off the line in his release; just when you think he's reached top speed, he taps into a gear that very few possess. He turns quick-hitters into long touchdowns and climbs on top of coverage in every game viewed. He is at his best on runaway routes, but flashes the ability to efficiently get in and out of breaks. His hands are inconsistent, though. He lets too many balls get into his body and that results in drops. After the catch, Williams destroys pursuit angles with his speed. His production as a gunner on the punt team speaks to his competitiveness. He suffered a torn ACL in the College Football Playoff National Championship, but once healthy, Williams could emerge as one of the premier deep threats in the NFL."
Harris was a three-year starter at Alabama with a versatile three-down skill set. He's a sideline-to-sideline player with good coverage ability and is an impact pass rusher from his middle linebacker spot.
This past season, Harris amassed 79 tackles, including 12.5 for loss, 5.5 sacks, four quarterback hurries, three pass breakups and two forced fumbles. The Louisiana native was a standout in the national championship game, recording seven tackles, including four tackles for loss, three sacks and a forced fumble.
"Harris is an explosive linebacker with intriguing upside, who improved every week. Against the pass, he's been asked to cover RBs, TEs and occasionally slot receivers. He has the speed to match up and can find/play the ball, as evidenced by a deft pass breakup vs LSU. He is quick to identify screens and then explodes to make the play. He is an excellent tackler in space. Harris is also a very dynamic blitzer, rocketing through gaps for sacks and pressures. Against the run, he isn't an instant key/diagnose player, but once he sees it, he has a burst to the line of scrimmage."
The NFL Draft begins Thursday, April 28 in Las Vegas and will air on ESPN and the NFL Network.
Top 20 Safest Alabama Cities
Take time to find out where your city ranks on the safest Alabama cities list.
Frank Lloyd Wright Inspired Smith Lake Home
Frank Lloyd Wright Inspired Smith Lake Home
Check Out This Retro and Ridiculous Lakeview, Alabama Lake House