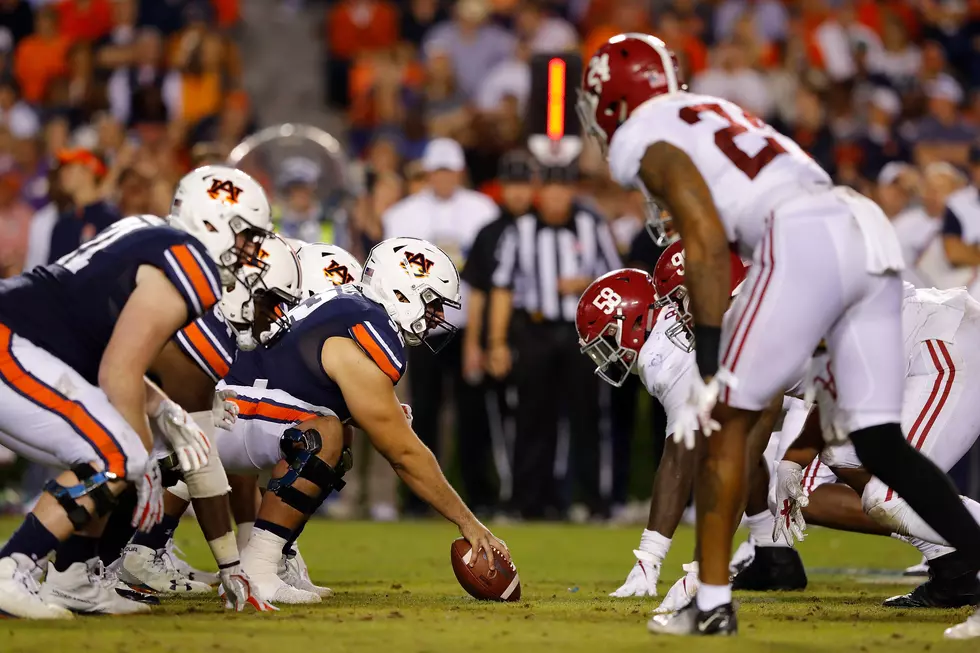 Kickoff Time Set for 86th Iron Bowl
Getty Images
The 86th Iron Bowl, between the Alabama Crimson Tide and the Auburn Tigers, will officially kickoff on November 27th at 2:30 p.m. CST in Jordan-Hare Stadium and will air on CBS.
The Crimson Tide face off against Arkansas this week and are looking to improve to 9-1 ahead of their dreaded trip down to the plains for the Iron Bowl. Auburn, coming off a horrible loss to Mississippi State in which the Tigers blew a 25-point lead, take on South Carolina and will be breaking in a new quarterback.
In Auburn's loss to Mississippi State, starter Bo Nix went down with an apparent ankle injury late, but returned a few plays later to finish the game. Unfortunately for Tiger fans, Nix suffered a broken ankle and is now expected to miss the remainder of the season, as well as kicker, Anders Carlson, who also suffered an injury against the Bulldogs.
In lieu of Nix, LSU transfer, T.J. Finley, is expected to start for the Tigers, but if Finley's playing time this season is any indication of what's to come, Bryan Harsin may be trying out a few different signal callers this week.
While the injury bug has certainly taken it's toll on the Auburn Tigers, the Crimson Tide were no stranger to it on Saturday either, losing running back Roydell Williams and wideout JoJo Earle in the first half of its 59-3 win over New Mexico State.
Despite Nix being expected to miss the high-profile matchup, Alabama will have their work cut out for them in Jordan-Hare. Nick Saban, in his time coaching at both LSU and Alabama, has compiled just a 3-7 record in the Tigers' home with the most recent loss coming in 2019.
The Crimson Tide are far and away the more talented team than the Tigers, but Saban may need to watch out for the "Auburn Voodoo" that has taken it's toll on him so many times before.
PHOTOS: Alabama Celebrates #18
Here's Why Every SEC Team is Inferior to Alabama
Top Offensive Lineman in Saban Era