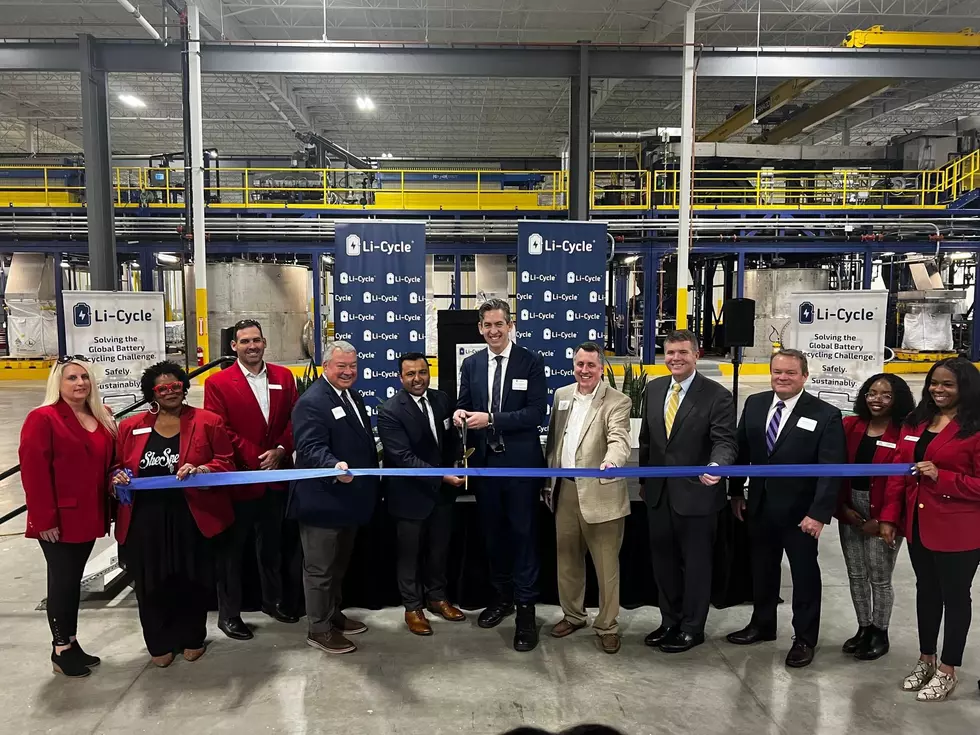 Li-Cycle Opens Lithium Battery Recycling Plant in Tuscaloosa
(Tuscaloosa Mayor Walt Maddox on Twitter)
A company aiming to make the increasing electrification of the automotive industry more sustainable has opened a lithium-ion battery recycling plant in Tuscaloosa.
Li-Cycle, an industry leader in the field, already operates three "Spokes" in North America, and the Tuscaloosa plant will become their fourth.
With Mercedes' new battery plant just up the road in Bibb County and the Alabama Mobility and Power Center on the University of Alabama campus, Tuscaloosa just made good sense for Li-Cycle.
The 100,000-square-foot plant on Boone Boulevard will extract "black mass" made up of lithium, cobalt and nickel from used lithium-ion batteries and beginning next year, Li-Cycle will work to convert that into battery-grade materials at another plant in Rochester, New York.
The new plant also brings around 50 new jobs to the area.
Tuscaloosa Mayor Walt Maddox, Probate Judge Rob Robertson and Alabama Secretary of Commerce Greg Canfield were on site Thursday to cut a ceremonial ribbon inside the new plant and see operations officially begin.
"We are excited to announce that our Alabama Spoke has commenced operations," co-founder and CEO of Li-Cycle Ajay Kochhar said in a press release. "This facility enhances our ability to support the recycling needs of our diverse and growing customer base in North America to ensure lithium-ion battery material is recycled in an environmentally friendly and safe manner. Li-Cycle is creating an essential domestic supply of recycled material to support EV production and assist automakers in meeting their domestic production content requirements."
"Li-Cycle's new battery recycling facility in Tuscaloosa adds a dynamic new dimension to Alabama's evolving auto industry," Alabama Governor Kay Ivey said in the same release. "This facility will play an important role in the lifecycle of batteries powering electric vehicles by contributing an innovative sustainability solution."
Top Stories from the Tuscaloosa Thread (10/3 - 10/10)
18 of the Top Stories published by the Tuscaloosa Thread during the week of October 3rd, 2022.