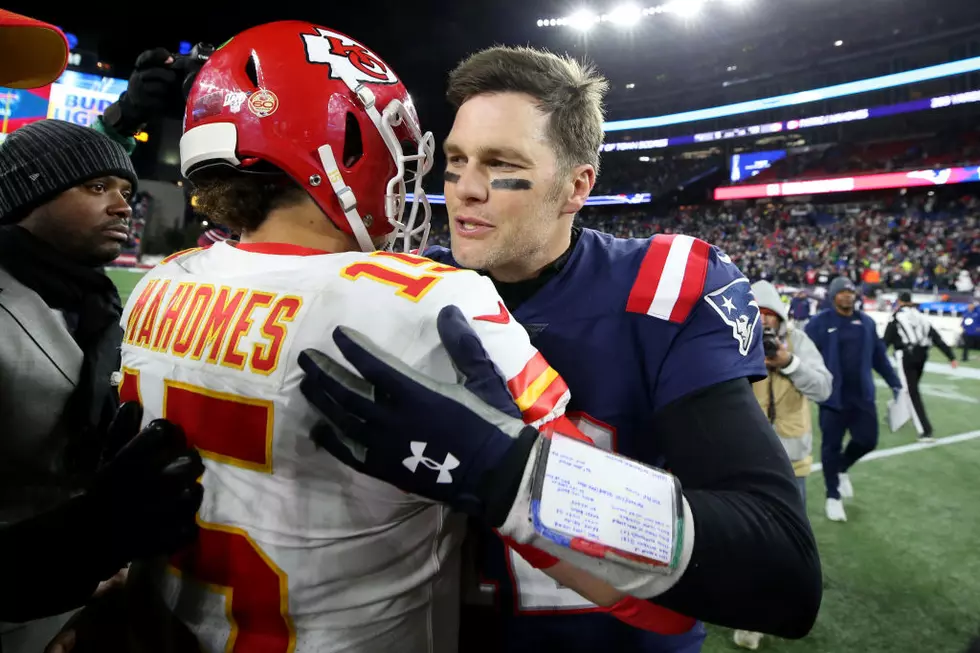 Mahomes Looks To Overtake Brady For G.O.A.T Status
Getty Images
The Kansas City Chiefs take on the Tampa Bay Buccaneers in Super Bowl LV on Feb. 7.
This matchup will feature the face of the NFL for the last 20 years: Tom Brady, and young star Patrick Mahomes.
For Brady this will be the 10th Super Bowl he's played in, having won six and lost only three with the New England Patriots.
Regardless of if you're a Patriots fan or not, it's very hard to argue against Tom Brady being the best to ever lace up football cleats.
The 43-year old Brady is quite humble, and in an interview with ABC'S "Good Morning America", he admitted that he's not very fond of the G.O.A.T  title that many sports fans across the country have given him.
"I'd rather you insult me or something like that. There's a lot of important people in my life. I think every person I've been around, I've learned something from.", said Brady.
TB12 has cemented his legacy and will be a first ballot Pro Football Hall of Famer someday, but how long will he be categorized as the greatest of all time?
The league is changing at a rapid pace and a slew of young QB's like Mahomes, Josh Allen, Deshaun Watson, and Lamar Jackson are putting up some ungodly numbers.
Records aren't lasting for long, these young and hungry players have their eyes set on winning a ring.
When Mahomes was picked No. 15 overall in the 2017 NFL Draft, analysts knew he was a high risk high reward prospect.
Fast forward a few years and we've seen nothing but success from the 25-year-old gunslinger.
Some of his most impressive career accolades are listed below.
Three-time Pro-Bowler
50 touchdowns in a season  (2018)
NFL MVP (2018)
Super Bowl LIV Champion
Super Bowl LIV MVP
With a 1-0  Super Bowl record Mahomes is seeking perfection in the big game and his second straight title.
Mahomes who picked against Tom Brady in Super Bowl XXXIX, will have his own shot to knock off the grizzled vet on the biggest stage.
The matchup between these two is even at 2-2, after the Chiefs knocked off the Bucs 27-24 back in late November.
When asked about facing Brady, Mahomes had this to say following the teams win over the Buffalo Bills in the AFC Championship.
"To go up against one of the greatest, if not the greatest quarterback of all-time in his 150th Super Bowl is gonna be a great experience", said Mahomes.
If you take a look at both QB's side by side in the first three years of their NFL careers, the numbers are quite similar.
The career trajectory for Mahomes seems to continue trending upward, however nothing is guaranteed in the NFL.
We've seen plenty of players catch fire early on their careers, just to fall flat and fizzle out after a couple years.
Will Brady add another title to his belt come Sunday, or will Mahomes inch closer and closer to GOAT status?
Enter your number to get our free mobile app
Here Are The Six Best Sushi Spots in Tuscaloosa