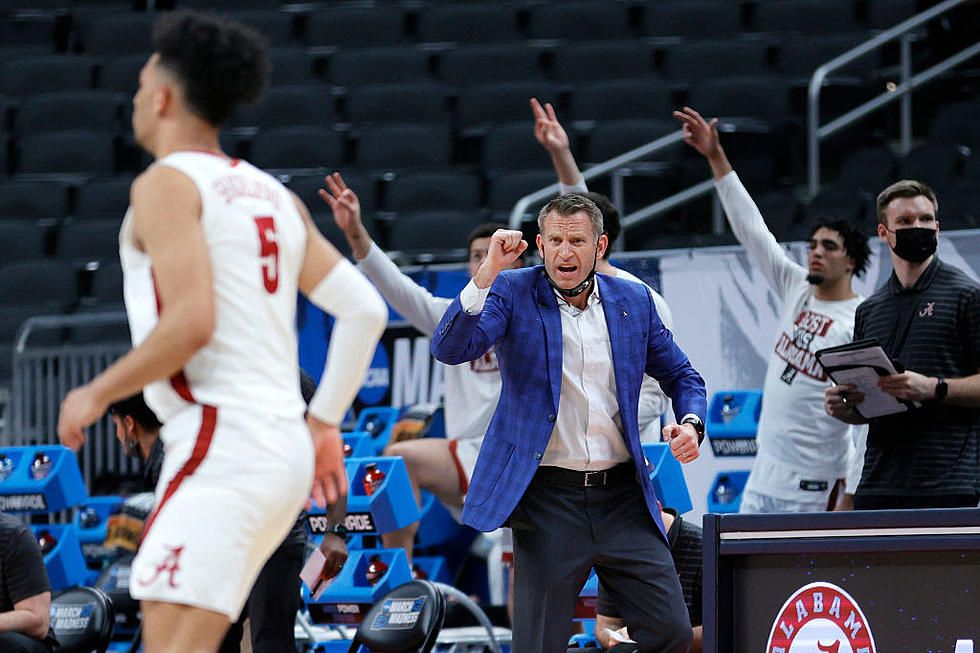 Nate Oats Encouraged By Freshman Heading into 2021-22 Season
Getty Images
Alabama head basketball coach Nate Oats spoke on Wednesday about what he expects from the freshman and his team as a whole. Alabama basketball's practices started last Thursday, and they have had five practices since then. In that short amount of time freshman JD Davidson has already exceeded Oats' expectations with not only his play making abilities but his passing game as well.
"He's been better than what I thought in a lot of areas," said Oats, "He can really pass the ball. He's leading the team in assists through these first five practices."
Davidson is a five-star recruit from Calhoun who was the seventh player in Crimson Tide history to be named McDonald's All-American.
Oats continued to speak highly of 4-star athlete Charles Bediako. Bediako is a seven-foot-tall center from Canada who was an SI All-American out of IMG Academy.
"He's a great target. Whether he's playing with JD or he's playing with Jahvon they've been able to find him quite a bit," said Oats, "He's playing well, he's adapting well. The physicality of the college game hasn't seemed to bother him so far."
Oats also talked about what freshman Jusaun Holt brings to the table. Holt was a 4-star prospect out of St. Francis, in Georgia who chose the Crimson Tide over Wake Forest, Miami, Washington, Xavier and Georgia which were his top six schools.
"Jusaun Holt is really starting to shoot the ball better. It seems like he's a lot more comfortable with the offense. His energy has been good, he's rebounding the ball at a high clip."
Coach Oats continued to say he believes these three freshmen, after seeing what they are capable of in such a short amount of time in practice, will have a chance to really help the team this spring.
The 2021 Alabama Football Schedule in Photos
Tuscaloosa's High School Football Programs
Here are some of the high school football programs located in or around the Druid City!
How Do Fans Sing 'Dixieland Delight' in Tuscaloosa, Alabama?
Alabama football fans add
a few extra lyrics
to 'Dixieland Delight' when it's played on the speakers in Bryant-Denny in Tuscaloosa, Alabama. What are they singing? And Why?
Alabama Football's Second Fall Scrimmage
The Crimson Tide was back at it on Saturday in Bryant-Denny Stadium. The Tide was more focused on execution of the offense and defense as the Tide is two weeks away from playing Miami in the season opening game.