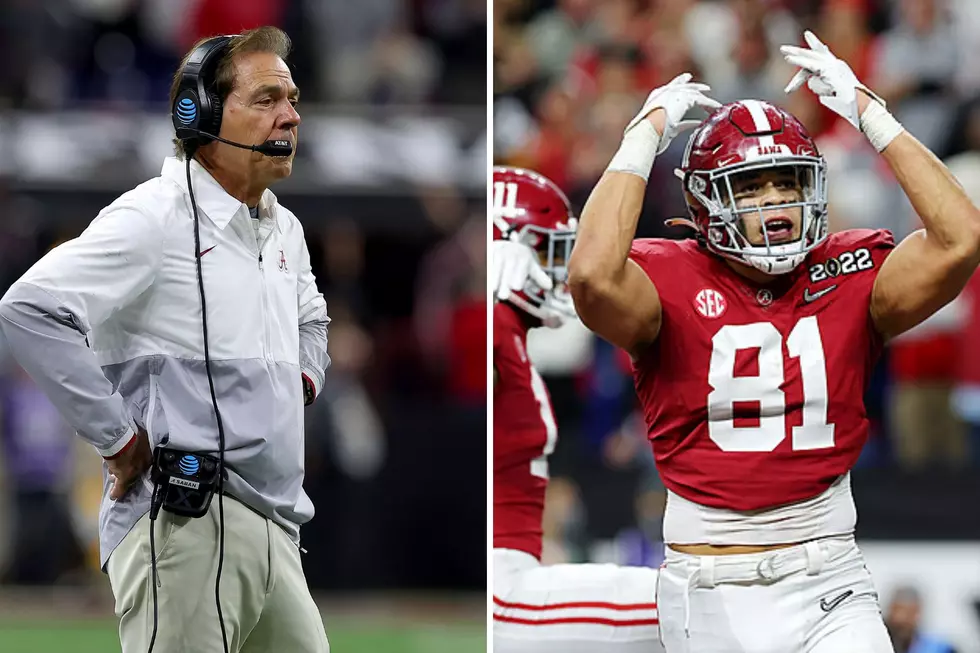 Nick Saban Says Tight End Cameron Latu, "Will Miss Some Time in Camp"
Getty images, Canva
Nick Saban spoke with the media following Alabama's opening day of fall camp and talked about the status of his team as it heads into the 2022 season.
The coach covered several various topics, but provided an update to one position group that could weigh heavily on what the team looks like in Week 1.
Saban was asked about the tight ends room and the depth behind senior Cameron Latu who is projected to be the starter, and the coach responded, "Well, [Latu] is going to miss some time in camp, I don't know exactly how long. Which is an opportunity, I think. We have three freshmen, young guys, that have an opportunity to develop. We'll give them a lot of reps and a lot of opportunity in camp, so that's a position we definitely need to develop some depth at."
When asked if he knew the reason as to why Latu will be missing practice, Saban responded simply, saying, "Yeah, I do."
The veteran coach chose not to further elaborate on the topic.
Latu joined the Crimson Tide in 2018 as a four-star linebacker from Salt Lake City, UT, and made the switch to tight end after his freshman season. He saw time mostly on special teams in 2019 and 2020, but took over as the starter last season.
He hauled in 26 catches for 410 yards and eight touchdowns, and showed improvement as the season progressed, learning the nuances of the tight end position.
Behind Latu, Alabama features little experience, but a lot of potential. The Tide signed four-stars Amari Niblack and Elijah Brown in the 2022 class and also brought in Hutchinson Community College transfer Miles Kitselman this offseason.
While the additions were expected to be little more than depth pieces this season, it looks as if trio will be seriously competing for reps.
Iconic Photos From Alabama's 18 National Championships
Claimed or recognized, no FBS football program has more national championships than the Tide. Look back on all 18 titles in Alabama history with these photos.
Highest Rated Recruits of the Saban Era By Year
Check out Alabama's highest-rated recruit from each Crimson Tide recruiting class during the Nick Saban era.