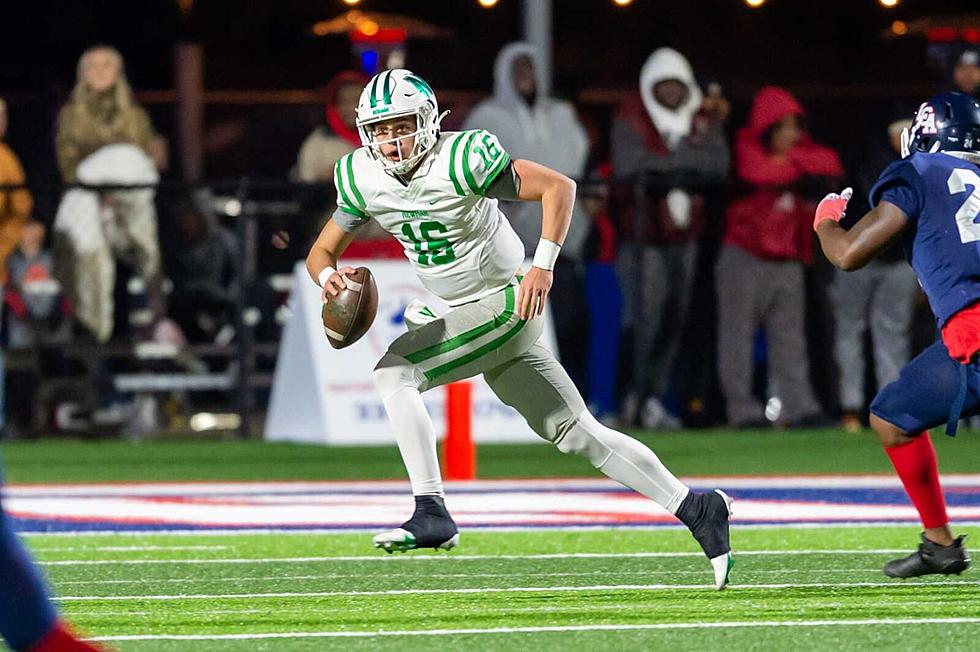 The Alabama Crimson Tide Is The Obvious Choice for Arch Manning
Photo Courtesy @rmftstore on Twitter
As college football closes the book on the 2022 recruiting class and turns its attention to the 2023 class, every contending team has one name on its mind: Arch Manning.
Manning is the nation's No. 1 rated quarterback out of Isidore Newman in New Orleans, Louisiana. The 6-foot-4 rising senior is the grandson of NFL legend Archie Manning and nephew of NFL legends Eli and Peyton Manning.
As the summer heats up and the young Manning narrows down his options, lets examine the reasons why he would be a perfect fit in Tuscaloosa.
1. Alabama is the new QBU - The Crimson Tide has fully embraced the up-tempo, offensive style that has overtaken college football with its recent quarterbacks being the primary beneficiary. The last three quarterbacks to have started for the Crimson Tide have all been drafted in the top two rounds of the NFL Draft with Bryce Young appearing to continue that trend in 2023
2. Alabama surrounds the QB with top tier talent - When Jalen Hurts was evaluating schools to transfer to after the 2018 season, coach Nick Saban encouraged him to go to a school that surrounds him with talent in order for him to showcase his skills and flourish.
The Tide will surround Manning with impeccable talent in order for him to show NFL talent evaluators just exactly what he's made of. Alabama has already had four wide receivers drafted in the first round in the past two seasons and has no signs of slowing down.
3. Close Proximity to New Orleans -  Not that the Manning family needs a break in terms of travel expenses, but the city of Tuscaloosa is a short 4-hour drive from the city of New Orleans. The Manning family and friends could make the short trek to Tuscaloosa to see Manning's entire career.
4. Open competition with Ty Simpson and Jalen Milroe -  The young Manning will likely want to go to a school where he can make an immediate impact. The Alabama quarterback room provides that exact scenario as Bryce Young will likely have just one more year in college football before heading to the NFL. Manning would step onto The Capstone and compete with Jalen Milroe and 2022 5-star prospect Ty Simpson immediately for the starting role.
5. Compete for a Championship - The rising senior can do something that no Manning has ever accomplished should he come to The Capstone. Manning could be the first in his family to win a collegiate national championship. Eli's best season finished with a Cotton Bowl victory and Peyton's best season finished with an Orange Bowl loss and Archie finished his final two seasons at Ole Miss 15-7.
Every recruiting class that Nick Saban has ever had in Tuscaloosa has played for a national championship during their time at Alabama. The Tide has played in nine national championship games during Saban's 15 years in Tuscaloosa.
Perhaps Saban will pull a classic page out of his recruiting book for Arch Manning. Saban pulled the No. 1 player in the state of Alabama in 2008 by simply issuing him a challenge.
"One of the reasons I liked Alabama was when I went to visit coach Saban, he said, 'Well you know, we want you here. But we're going to win with you or without you.' I was like, that's me. I just want to win. I don't like stuff just given to me," said Julio Jones.
Scrolling and Rolling: SEC Coaches as Pop Songs
What if each SEC coach were a pop song? We're prepping for kickoff in the Druid City and across the Southeastern Conference by taking a look.
2021 SEC Championship Game Alabama vs. Georgia
The Alabama Crimson Tide defeated the No. 1 ranked Georgia Bulldogs 41-24 to win the 2021 SEC Championship.
Crimson Tide Will Anderson Jr. 90s Playlist
Here are some songs that we think Alabama Crimson Tide player Will Anderson Jr. should add to his playlist, or better yet, he should just listen live on the free WTUG app.