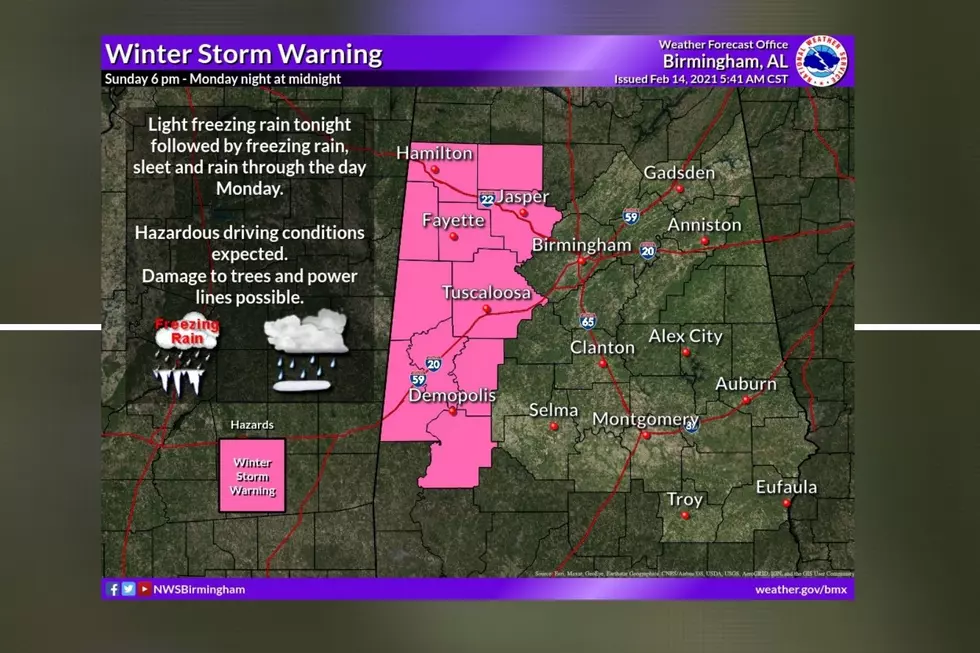 Winter Storm Warning Issued for Portions of West & North Alabama
National Weather Service
Winter Storm Warning Issued for Portions of West & North Alabama
My recommendation, be prepared.
Today would be a good idea to get prepped for supplies.
Have a battery-powered radio
First aid kit
Charge your phones and computers
Secure your candles and lighters
Flashlights
Non-perishable food items (If you have can goods with pop tops great, if not be sure you have a manual can opener)
Water
All your daily medicines
Baby items (food, diapers, etc.)
James Spann, ABC 33/40 and Townsquare Media Tuscaloosa Chief Meteorologist, noted on his Facebook page that "A potent winter storm will impact much of North and West Alabama tomorrow and tomorrow night with potential for enough ice accumulation for major travel impact and power outages."
The National Weather Service has issued Winter Storm Warnings for West and North Alabama. Also, there is a Winter Storm Watch for Birmingham and portions of Central Alabama.
Winter Storm Warning
Sunday, February 14th starting at 6 pm until Monday night at Midnight
Fayette
Greene
Hale
Lamar
Marengo
Marion
Pickens
Sumter
Tuscaloosa
Walker
Winston
Winter Storm Watch (updated at 740am with NWS information)
Monday, February 15th starting at 9 am until Monday night at Midnight
Bibb
Blount
Jefferson
Perry
Shelby
James Spann also offers us the timing of this winter weather event. "The precipitation will come in two phases. The first round will come tonight; freezing rain or drizzle is possible for North and West Alabama as early as 6:00 pm… and will continue at times through daybreak tomorrow. This will be fairly light, but it won't take much for bridges to become icy.
The "main show" comes late tomorrow morning through tomorrow night, when freezing rain will become heavier and more widespread across the winter storm warning area. Travel conditions will continue to deteriorate, and ice accumulation will increase on exposed surfaces, including trees and power lines. Precipitation will be over by 10:00 tomorrow night for most of Alabama."
(Source) For more from the National Weather Service, click here. For more from James Spann, click here.
The 10 Greatest Athletes from Alabama