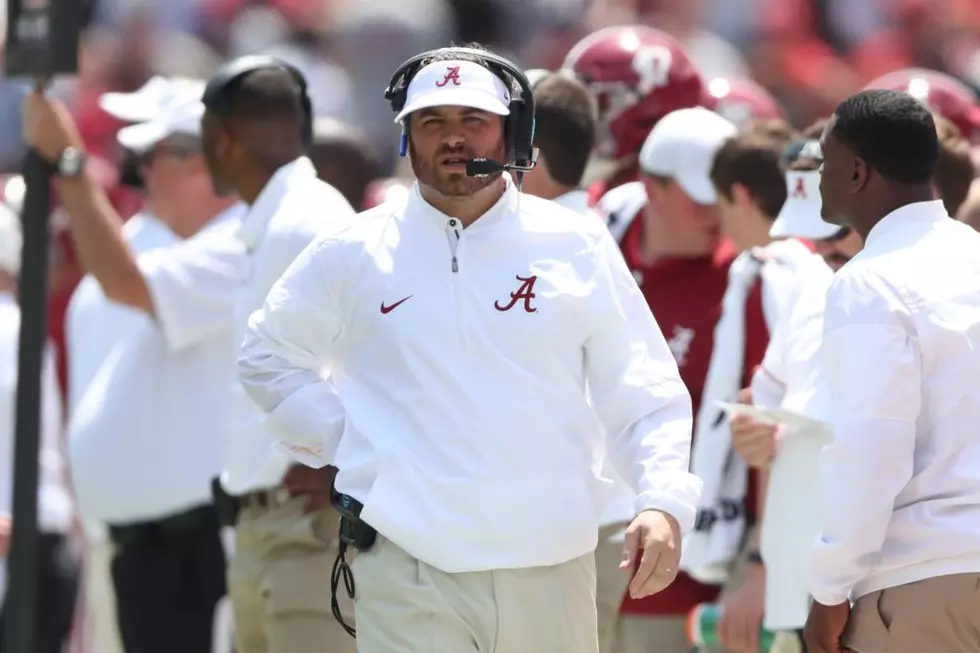 Golding Nominated for Broyles Award as Nation's Top Assistant
Photo Courtesy of Theathletic.com
Alabama defensive coordinator and inside linebackers coach Pete Golding has been nominated for the Broyles award, which is handed out yearly to the nation's top assistant coach.
Golding is commanding a unit that in 2021 has quietly been among the best in the nation and have undoubtedly helped steady the ship for a Crimson Tide team that at times, has struggled a bit offensively.
Golding's defense is allowing 288.3 yards per game, good enough for 5th in the nation, to go along with a rush defense allowing just 81.5 yards per game, which is good enough for third in the nation. They are also allowing just 18.2 points per game while playing a difficult schedule in an ever more evolving college game where points are king.
These numbers seem like a far cry from where the Alabama defense was at just a little over a year ago after leaving Oxford, Mississippi having given up 647 yards, including 268 on the ground to Lane Kiffin and the Rebels, and getting bailed out by perhaps the greatest offensive unit college football has ever seen.
In 2021's matchup against Ole Miss, Golding's defense allowed just 291 total yards and only 78 rushing yards to a very similar offense that they saw in Oxford in 2020. No statistic points to worlds of improvement more so than this one.
While overshadowed by the absurdity of the offense, Golding and the defense improved tremendously over the course of the 2020 season as well, and by the end, were one of the best in the nation without a doubt.
Many Tide fans have wanted Golding's head on a platter for years now, but to say this defense has not improved lightyears over the past year would be completely ridiculous.
Of course, things like the emergence of Will Anderson as one of the best players in the nation, securing a transfer of Henry To'o To'o and pairing him up with Christian Harris to form a fearsome inside backer duo, as well as continued development of players like Josh Jobe, Daniel Wright, and Malachi Moore in the secondary, have all helped Alabama's defensive resurgence, but Golding needs to be given his due credit as well.
The Crimson Tide defense in the past year has transformed from an inexperienced, worrisome, liability into the strongest aspect of the team at the moment, and the main reason why Alabama's playoff hopes are still alive.
Crimson Tide fans, it's time to apologize to Pete Golding and give him the due credit he deserves in building up this unit over the past 14 months.
The Alabama Crimson Tide 2021 Defense
The Alabama Crimson Tide led the SEC in scoring defense in 2020 holding opponents to 19.4 points per game. The Tide is expected to be even stronger on defense this fall, returning several starters from last year and an impactful transfer.
Alabama Tight Ends and Defensive Backs at Fall Practice
Alabama held its fall practice on Thursday. Tight ends and defensive backs practiced hard yesterday as the season opener approaches. Alabama will face Miami in Atlanta for the season opener on Sept. 4.
Alabama Football's Second Fall Scrimmage
The Crimson Tide was back at it on Saturday in Bryant-Denny Stadium. The Tide was more focused on execution of the offense and defense as the Tide is two weeks away from playing Miami in the season opening game.
Alabama's Top 10 Athletes - Fall 2021
The Alabama Crimson Tide boasts an extremely successful athletic department with amazing athletes playing multiple sports. The top 10 athletes include national champions, an Olympic athlete, SEC champions and various record holders.